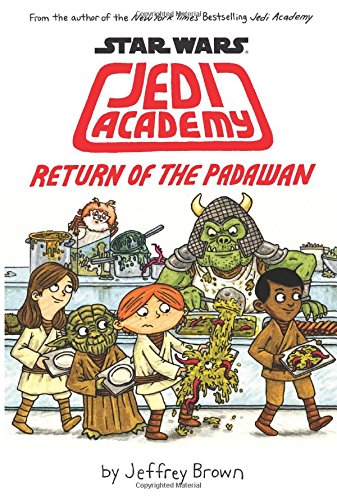 Publisher's Note:
Author/illustrator Jeffrey Brown returns in the highly anticipated sequel to the NY Times Bestseller Star Wars: Jedi Academy!

It's time to return to middle school in a galaxy far, far away. . . .

After surviving his first year at Jedi Academy, Roan Novachez thought his second year would be a breeze. He couldn't have been more wrong. Roan feels like he's drifting apart from his friends, and it's only made worse when Roan discovers he's not the amazing pilot he thought he'd be. When the school bullies take him under their wing, he decides they aren't so bad after all--or are they?

This year, Roan will have to face alien poetry tests, menacing robots, food fights, flight simulation class, online bullies, more lightsaber duels, and worst of all . . . a girl who is mad at him.

This incredible, original story captures all of the humor, awkwardness, fun, and frustrations of middle school--all told through one boy's comics, journal entries, letters, sketches, e-mails, and more.
This book was sent to Compass Book Ratings for review by Scholastic
Star Wars: Jedi Academy, Return of the Padawan
by Jeffrey Brown
Overall Review:
Oh, if only we all had a Master Yoda to guide us through our problems! Luckily, protagonist Roan has access to the Jedi Master's wisdom, or perhaps he wouldn't be able to navigate through a second year at the Jedi Academy as he struggles with friends, bullies, disappointments, and the temptation of The Dark Side.
Penned in the doodle-diary style popularized by The Wimpy Kid series, The Return of the Padawan is a mash-up of illustrations, diary entries, class schedules, social media interactions, and a heavy dose of comic strips. Combine this format with Star Wars and it will be absolutely irresistible to elementary-age students, particularly boys and reluctant readers. In contrast to some of the snarky tones of other doodle diaries, this book has a more positive voice, a protagonist with supportive family relationships, and a few poignant insights into social media bullying. (Yoda says, "Avoid reading Holobook comments, you should. Or consume your day it will. A Padawan uses Holonet for knowledge and research, never for attack.")
Although the CBR age scale begins at 9+, this book is appropriate for even younger readers and is sure to be a hit. It is the second in a series, but it is not necessary to read the first book to enjoy or follow the storyline in Return of the Padawan.
Content Analysis:
Profanity/Language: None
Violence/Gore: Character elbows someone; verbal and social media bullying; characters hit by balls in class (accidentally and on-purpose) with minor injury; illustrated image showing The Force used to send icicles into a wampas' backside; food fight; simulated flight training with asteroids, explosions, etc.
Sex/Nudity: Characters are seen holding hands; characters hug (platonic).
Mature Subject Matter:
Bullying, social media, cheating.
Alcohol / Drug Use:
None
Reviewed By Cindy