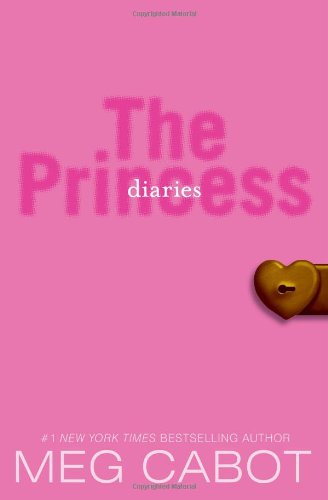 Publisher's Note:
What? A princess??
Me??? Yeah, right.
Mia Thermopolis is pretty sure there's nothing worse than being a five-foot-nine, flat-chested freshman, who also happens to be flunking Algebra.
Is she ever in for a surprise.
First Mom announces that she's dating Mia's Algebra teacher. Then Dad has to go and reveal that he is the crown prince of Genovia. And guess who still doesn't have a date for the Cultural Diversity Dance?
The Princess Diaries
by Meg Cabot
Overall Review:
Meg Cabot does a fantastic job of portraying a sweet, good, modest girl caught up in the drama of teen life--with the interesting twist of finding out she's a princess. It's a scenario many girls dream of--being plain and unnoticed and finding out there's something awesome about you after all. But Mia's journey is one of self-discovery, and being rich and famous isn't what she wants. Cabot helps young readers see that what's inside matters, and she does it in a hilarious, tongue-in-cheek way that's easy to relate to and never feels preachy.
The Princess Diaries is not much like the Disney movie of the same name. It has some substance the movie doesn't have--and vice versa. It's a quick read, and I recommend it for a fun evening of laughter and a little introspection. While the book is definitely targeted toward young girls, even adult readers will be able to smile at the memories of high school drama without experiencing too many painful flashbacks. Fun for all!
Content Analysis:
Profanity/Language: 47 religious exclamations; 1 mild obscenity; 1 anatomical term.
Violence/Gore: Reference to a news story in which people are held hostage; a character smashes ice cream into another person's chest.
Sex/Nudity: References to French kissing; references to sexual harassment; a character frequently thinks about the size of her breasts; references to "being felt up"; references to prostitution; a character comments on another character's bra size; a character is believed to have "put out"; an adult character spends the night with a member of the opposite sex (twice); a story is told about vaginal tissue being used for skin grafting; a character is known to have overnight guests of the opposite sex; reference to a flasher; characters kiss briefly (twice); references to homosexuality; a character's parents are unmarried; a reference to transgender.
Mature Subject Matter:
Child born out of wedlock.
Alcohol / Drug Use:
Teens drink alcohol; adults drink socially; smoking references; drug references.
Reviewed By Leslie