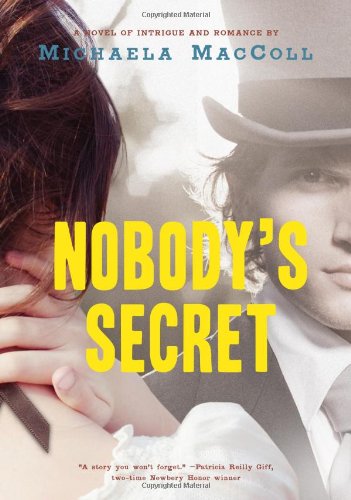 Publisher's Note:
One day, fifteen-year-old Emily Dickinson meets a mysterious, handsome young man. Surprisingly, he doesn't seem to know who she or her family is. And even more surprisingly, he playfully refuses to divulge his name. Emily enjoys her secret flirtation with Mr. "Nobody" until he turns up dead in her family's pond. She's stricken with guilt. Only Emily can discover who this enigmatic stranger was before he's condemned to be buried in an anonymous grave. Her investigation takes her deep into town secrets, blossoming romance, and deadly danger. Exquisitely written and meticulously researched, this novel celebrates Emily Dickinson's intellect and spunk in a page-turner of a book that will excite fans of mystery, romance, and poetry alike.
This book was sent to Compass Book Ratings for review by Chronicle Books
Nobody's Secret
by Michaela MacColl
Overall Review:
A quaint mystery weaved with historical elements, Michaela MacColl's third young adult novel, Nobody's Secret explores the life of a young Emily Dickinson and her pursuit of justice for an acquaintance whom she believes has been a victim of foul play.
Well researched and fairly accurate for what is known about Emily and her family, admirers of Dickinson will appreciate MacColl's ability to seamlessly fashion fact and fiction together, creating a plausible situation for Emily to involve herself in, and may even explain why so many of her writings were entrenched with the subject of death. However, the reader does not have to be a poetry buff or knowledgeable about the life of Emily Dickinson to be engaged by MacColl's writing. Her dialogue between characters is most enchanting and the even pacing throughout the story will be sure to entertain and hold readers' attention. Seriously, what could be cooler than getting the chance to throw away your identity and sleuth with the likes of Emily Dickinson?
"I'm nobody! Who are you?
Are you nobody, too?
Then there's a pair of us -- don't tell!
They'd banish -- you know!..."
Very cool indeed!
Content Analysis:
Profanity/Language: 1 mild obscenity.
Violence/Gore: Characters discover a dead body; animal is in an accident involving water; twice character reads grim newspaper articles which contain violence; character accidentally hurts herself on a sharp instrument, some blood mentioned; character acknowledges the loss of two family members; mention of character killing poultry to be used in a meal; character reports the death of another character; character appears to have been in a physical altercation; character believes she is being threatened; character commits suicide by poison, brief scene ~ 2 sentences; character describes the death of another character; murder and the murder victim are mentioned throughout the book.
Sex/Nudity: A few incidents where characters flirt briefly.
Mature Subject Matter:
Murder, death of a family member, conspiracy, bribery, financial ruin, suicide.
Alcohol / Drug Use:
Characters partake of brandy and wine; poison.
Reviewed By MaryLou