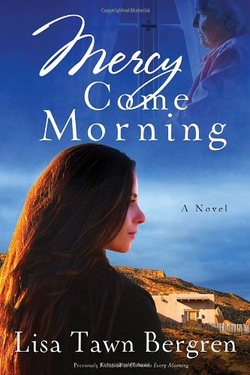 Publisher's Note:
Krista Mueller is in a good place. She's got a successful career as a professor of history; she's respected and well-liked; and she lives hundreds of miles from her hometown and the distant mother she could never please. It's been more than a decade since Alzheimer's disease first claimed Charlotte Mueller's mind, but Krista has dutifully kept her mother in a first-class nursing home.

Now Charlotte is dying of heart failure and, surprised by her own emotions, Krista rushes to Taos, New Mexico, to sit at her estranged mother's side as she slips away. Battling feelings of loss, abandonment, and relief, Krista is also unsettled by her proximity to Dane McConnell, director of the nursing home—and, once upon a time, her first love. Dane's kind and gentle spirit—and a surprising discovery about her mother—make Krista wonder if she can at last close the distance between her and her mother … and open the part of her heart she thought was lost forever.
This book was sent to Compass Book Ratings for review by Waterbrook Press
Mercy Come Morning
by Lisa Tawn Bergren
Overall Review:
There are times when we are hard on ourselves and don't allow ourselves to have happiness because we don't feel that we deserve it. This is Krista Mueller's life motto—she's successful in her job, but not in her personal life. She pushes everyone away constantly. Once she hears that her mother is dying, she finally faces all of her old 'skeletons'.

As horrible as Alzheimer's is, this book is very hopeful, positive and optimistic about it without making it feel trite. I felt so much empathy for Krista as she discovered more about her mother (and, in this process, herself) and all that happened in the past. There is a lot of back and forth between Krista's past and present, but it flowed very well and I never felt confused. I enjoyed all the history both about New Mexico and the world at large. The culture of New Mexico presented here was very beautiful! It made me want to go there and see for myself!

Mercy Come Morning is all about relationships—between parent/child, between boyfriend/girlfriend, between husband/wife, between friends. It's all about stepping into someone else's shoes—about stepping out of yourself and taking a good look at what has gone on, or is going on around you! It is a journey of coming together and gaining understanding; a sweet reminder that while life is tough and can be harsh and full of pain and misunderstandings and tears, we can find joy and peace all around us if we just open our eyes and look. A lovely and uplifting Sunday afternoon read!
Content Analysis:
There is no profanity, however this is a very Christian book so be prepared for many prayers and petitions to heaven.

As far as violence, it is all very mild. A character slaps another. The death tolls of some wars are mentioned. There are some characters who die due to various causes: war, old age, sickness.

There is some sexual content. There are allusions to a character having various men overnight (this happens fairly often). A character is sexually assaulted. Both of these instances are necessary to the plot and are handled very well without description. Two characters kiss.

There are many moderate mature themes: Death of loved ones, Alzheimer's, dealing with abuse (both physical and mental), taking care of a mentally sick parent. Some other mild themes are forgiveness, self-discovery and discovery of one's past.
Mature Subject Matter:
***
Alcohol / Drug Use:
***
Reviewed By Emily