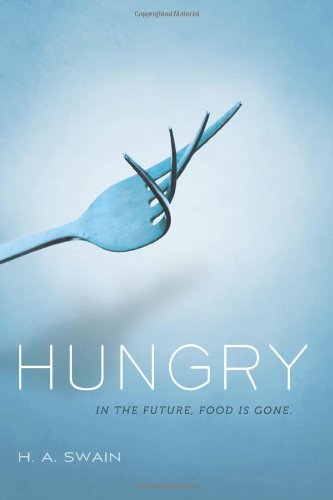 Publisher's Note:
In Thalia's world, there is no more food and no need for food, as everyone takes medication to ward off hunger. Her parents both work for the company that developed the drugs society consumes to quell any food cravings, and they live a life of privilege as a result. When Thalia meets a boy who is part of an underground movement to bring food back, she realizes that there is an entire world outside her own. She also starts to feel hunger, and so does the boy. Are the meds no longer working?

Together, they set out to find the only thing that will quell their hunger: real food. It's a journey that will change everything Thalia thought she knew. But can a "privy" like her ever truly be part of a revolution?
Hungry
by H.A. Swain
Overall Review:
When I was a teen, I would snatch up any book that was dystopian, or set in the post-apocalyptic future. Nowadays, I am a bit more selective as I have broader horizons in my reading goals, and it seems like every other young adult book that is published is dystopian. (I can't read everything, after all, no matter how much I would love to!) When I read the synopsis of Hungry I was pretty sure it was worth my time. I was right, for the most part.
Though this book has undertones of many other YA books I have read, which makes it less unique, it also had its own storyline that has rarely been tackled by authors, though may soon become a more popular topic: food--and the lack of it in the future. Food plays a big part in our lives right now, but what about in ten years...will we need it? Will we want it? This was a question that arose in my mind over and over as I was reading Hungry. This is indeed an interesting dilemma. With the pace at which science is progressing, it may be possible very soon that humans won't rely on food as much. But will we miss it? This book was a fantastic look at this question, and even though it is fiction, the viewpoint felt quite accurate.
Having personally struggled with body-image and food for many years, I could relate well to the main character, Thalia, in this book where nutrition is closely monitored and food is scarce. The humans in this book ingest a liquid substance that holds all of their dietary needs. They don't look to food for comfort or pleasure. What would a world like this be like? I enjoyed the subject matter of this book, and appreciated that no zombies or vampires made an appearance. If you are looking for something a bit different, give Hungry a try.
Content Analysis:
Profanity/Language: 5 religious exclamations; 5 mild obscenities; 2 scatological words; 2 anatomical terms.
Violence/Gore: A character is mentioned to be shot, blood is briefly described; one brief violent scene is described, characters are arrested and detained by authorities; several brief scenes of authorities chasing criminals described.
Sex/Nudity: One brief clinical depiction of nudity; minors kiss several times; adults kiss; several sexual references.
Mature Subject Matter:
Ethics, social conflicts.
Alcohol / Drug Use:
Adults drink; adults smoke; brief drug use mentioned.
Reviewed By Lydia