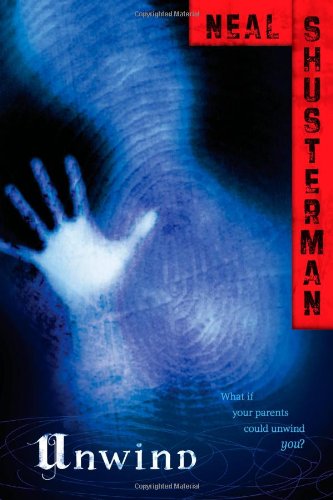 Publisher's Note:
In America after the Second Civil War, the Pro-Choice and Pro-Life armies came to an agreement: The Bill of Life states that human life may not be touched from the moment of conception until a child reaches the age of thirteen. Between the ages of thirteen and eighteen, however, a parent may choose to retroactively get rid of a child through a process called "unwinding." Unwinding ensures that the child's life doesn't "technically" end by transplanting all the organs in the child's body to various recipients. Now a common and accepted practice in society, troublesome or unwanted teens are able to easily be unwound.

With breathtaking suspense, this book follows three teens who all become runaway Unwinds: Connor, a rebel whose parents have ordered his unwinding; Risa, a ward of the state who is to be unwound due to cost-cutting; and Lev, his parents' tenth child whose unwinding has been planned since birth as a religious tithing. As their paths intersect and lives hang in the balance, Shusterman examines serious moral issues in a way that will keep readers turning the pages to see if Connor, Risa, and Lev avoid meeting their untimely ends.
Unwind
by Neal Shusterman
Overall Review:
Unwind is an exciting, suspenseful, page-turner of a book that makes readers think deeply about their convictions. The characters are well written and complex and there is nothing black and white about this story, which is the whole point.
Shusterman depicts this horrific world with grace and style. Almost every character is extremely likeable, and every situation they get into has the reader rooting for all involved.
In a dystopia where no one even pretends to be living in a perfect world, there are only bad situations and worse situations. I'm excited to experience the rest of the series, and hope it's as intense and thought provoking as book one was.
Content Analysis:
Profanity/Language: 8 religious exclamations; 9 mild obscenities; 1 scatological word, 3 anatomical terms, 1 offensive hand gesture.
Violence/Gore: In an extended scene (5 pages) characters run from captors, causing multiple car accidents and one death (few details); a character is choked and dragged with no injury; a character bites another character with no serious injury; a character shoots another character in the leg with a tranquilizer gun (three times); a character twists another character's arm behind his back; a character is trampled by a mob with no serious injury; a character allegedly beat his wife; a news report shows body parts; a character describes a past serious injury; a character cuts himself on broken glass; in what appears to be an attempted rape, two characters scuffle with no serious injury; a character punches another character in the face, breaking nose; several characters suffocate to death after being locked in a small crate; abortion doctors were allegedly attacked and killed; two armed characters scuffle with no injuries; characters fight off attackers with punches and aerosol spray; characters tear apart an airplane; a character is found badly beaten, and dies from injuries sustained; two characters fistfight--one is choked into unconsciousness; a baby is reported to have been shaken badly; in an extended scene (7 pgs), two characters commit a suicide bombing (no detail) with destruction of property, one death, and two people are seriously injured.
Sex/Nudity: Characters flirt, hug (twice), kiss briefly (3 times), and hold hands; a character is advised to get pregnant; reference to a character having two dads (homosexual).
Mature Subject Matter:
Kidnapping, abandonment, fatal illness, unwed parents, physical abuse, bullying, abortion, criminal activity, murder.
Alcohol / Drug Use:
None
Reviewed By Leslie