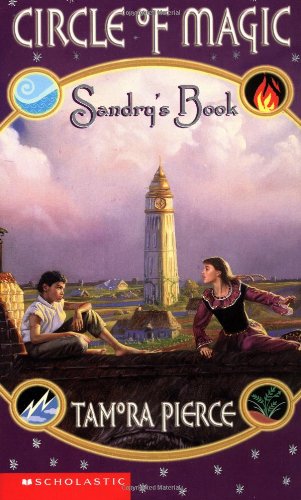 Publisher's Note:
Part of the 8-book Tamora Pierce reissue for Fall 2006, this title in the Circle of Magic quartet features spellbinding new cover art. Coincides with the release of WILL OF THE EMPRESS in trade pb.

Four elements of power, four mages-in-training learning to control them. In Book 1 of the Circle of Magic Quartet, gifted young weaver Sandry is brought to the Winding Circle community. There she meets Briar, a former thief with a way with plants; Daja, an outcase gifted at metalcraft; and Tris, whose connection with the weather unsettles everyone, including herself. The four misfits are taught how to use their magic, but when disaster strikes, it's up to Sandry to weave together four different kinds of power to save herself, her friends, and Winding Circle.
Circle of Magic: Sandry's Book
by Tamora Pierce
Overall Review:
Tamora Pierce has created an intriguing new world--one that will keep readers coming back for the remaining books in the quartet. With compelling young characters that each have a tragic past to overcome, readers are sure to find at least one character they can relate to.
Pierce's writing is fluid and easy to follow. Her storytelling abilities are well developed. One complaint is that, like so many fantasy writers, she drops readers into a completely unfamiliar world without much explanation of terminology and customs. This is disorienting and occasionally causes the reader to wonder if they missed something. However, everything becomes clear by the end, so it's a flaw that's easily forgiven.
Younger readers might find the book a little slow, and there's no epic battle between good and evil, but older readers are sure to enjoy the relationships, experimentation with magic, and triumph over adversity that are richly developed in Sandry's Book. This is a quietly thrilling page turner. Highly recommended.
Content Analysis:
Profanity/Language: None
Violence/Gore: A character is known to have been killed by a mob; a character's family is killed at sea in a storm; characters fistfight with no serious injuries (three times, once in an extended scene--6 pgs); in an extended scene (4 pgs) a character loses control of magical powers, causing extensive damage to property; a strong earthquake kills many people and injures others.
Sex/Nudity: Certain men's preference for young boys is vaguely referred to.
Mature Subject Matter:
Death of loved ones, abandonment, natural disasters.
Alcohol / Drug Use:
Alcohol and drugs are mentioned but not used.
Reviewed By Leslie