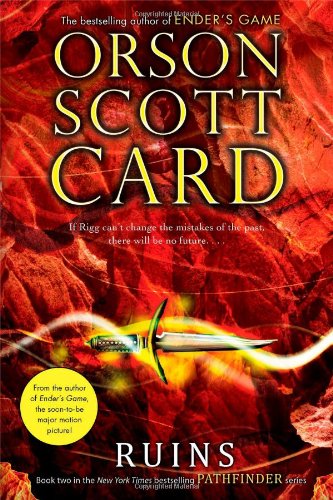 Publisher's Note:
From the author of Ender's Game, the soon-to-be major motion picture!

A complex fate. A deadly path. Book two in the New York Times bestselling series Publishers Weekly calls "an epic in the best sense."

When Rigg and his friends crossed the Wall between the only world they knew and a world they could not imagine, he hoped he was leading them to safety. But the dangers in this new wallfold are more difficult to see. Rigg, Umbo, and Param know that they cannot trust the expendable, Vadesh—a machine shaped like a human, created to deceive—but they are no longer certain that they can even trust one another. But they will have little choice. Because although Rigg can decipher the paths of the past, he can't yet see the horror that lies ahead: A destructive force with deadly intentions is hurtling toward Garden. If Rigg, Umbo, and Param can't work together to alter the past, there will be no future.

The adventure, suspense, and time travel continue in this second installment in the critically acclaimed New York Times and Publishers Weekly bestselling Pathfinder series.
Ruins
by Orson Scott Card
Overall Review:
Ruins, book two in the Pathfinder Series, picks up practically mid-sentence where Pathfinder ended. There is no pause in the narrative and no backstory reminders; it is essential to have read Pathfinder first, or the reader will be utterly and hopelessly lost. Ruins drops the dual storyline and all traces of fantasy fall away as the novel becomes pure science fiction. There is remarkably little action in this novel and only a token amount of plot progression. The majority of the book is devoted to the characters philosophizing, analyzing, and debating amongst themselves. While some of this is interesting, after a few hundred pages, it starts to be a bit tiresome. The banter is not as bright as in the first book and the dialogue is a little stiff and purely a vehicle for the discussion of theories and ideas.
Normally, the ponderous pacing of this book would merit a lower star rating. However, this book is unlike the rest of the books in the young adult section of your local bookstore and frankly, it is a relief just to have something different and cerebral. For being unique and a guy-friendly read, Ruins receives a little extra bump in the star rating.
Content Analysis:
Profanity/Language: 3 derogatory names; 3 scatological words.
Violence/Gore: Character knocked over; battle scene is viewed from a distance; general report of killing people; character sees another character bloodied, no details; discussion of deaths in past, in general and from the first book in the series; animals trapped for food; report of the destruction of civilizations, that people have been killed, death by plague in the past, general reference to rape, willingness of kings and queens to kill family members, etc.; character breaks a limb; report that characters' necks were snapped and bodies thrown over bridge, no details; discussion of the ethics of pre-emptive murder; premeditated murder of a character with a couple of sentences general description.
Sex/Nudity: Reference to a consort; a character is naked (non-sexual); a few separate references to breeding; reference to sperm when discussing genetic manipulation; general reference/mention of rape.
Mature Subject Matter:
War/genocide, genetic manipulation and breeding, philosophy, murder.
Alcohol / Drug Use:
Reference to someone being a drunk.
Reviewed By Cindy