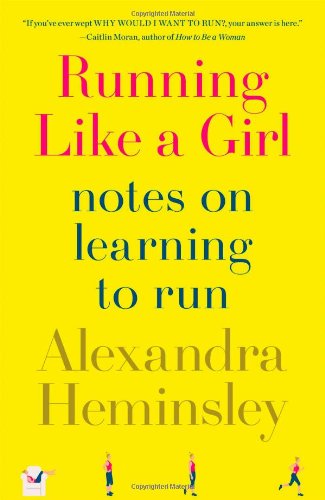 Publisher's Note:
In her twenties, Alexandra Heminsley spent more time at the bar than she did in pursuit of athletic excellence. When she decided to take up running in her thirties, she had grand hopes for a blissful runner's high and immediate physical transformation. After eating three slices of toast with honey and spending ninety minutes on iTunes creating the perfect playlist, she hit the streets—and failed miserably. The stories of her first runs turn the common notion that we are all "born to run" on its head—and expose the truth about starting to run: it can be brutal.

Running Like a Girl tells the story of how Alexandra gets beyond the brutal part, makes running a part of her life, and reaps the rewards: not just the obvious things, like weight loss, health, and glowing skin, but self-confidence and immeasurable daily pleasure, along with a new closeness to her father—a marathon runner—and her brother, with whom she ultimately runs her first marathon.

But before that, she has to figure out the logistics of running: the intimidating questions from a young and arrogant sales assistant when she goes to buy her first running shoes, where to get decent bras for the larger bust, how not to freeze or get sunstroke, and what (and when) to eat before a run. She's figured out what's important (pockets) and what isn't (appearance), and more.

For any woman who has ever run, wanted to run, tried to run, or failed to run (even if just around the block), Heminsley's funny, warm, and motivational personal journey from nonathlete extraordinaire to someone who has completed five marathons is inspiring, entertaining, prac­tical, and fun.
Running Like a Girl
by Alexandra Heminsley
Overall Review:
Author Alexandra Heminsley decides to start running in her early thirties and chronicles her transformation from couch potato to marathoner in the first half of Running Like a Girl. Heminsley maintains a chatty and informal tone throughout the book and provides hilarious and emotional anecdotes about her journey. While Heminsley's experiences were fun to read, her thoughts were frequently disjointed and some of her British terminology left me confused. She did inspire me to put on my running shoes and sign up for some races, for which I am ever grateful.
The second half of Running Like a Girl offers great running information. There's a section on the top ten running myths and the five most common running injuries. Heminsley also details what to pack for a marathon and offers plenty of other tips. This is great read for anyone who loves, or wants to love, running!
Content Analysis:
Profanity/Language: 4 religious exclamations, 3 mild obscenities, 2 derogatory names, 3 scatological words, 4 anatomical terms and 1 f-word derivative.
Violence/Gore: Secondhand report of a character being hit by a car.
Sex/Nudity: A few pages detailing finding the right sports bras, with lots of slang used for the word "breasts"; 2 sexual references.
Mature Subject Matter:
Relationships.
Alcohol / Drug Use:
Characters drink and mention smoking.
Reviewed By Rachel