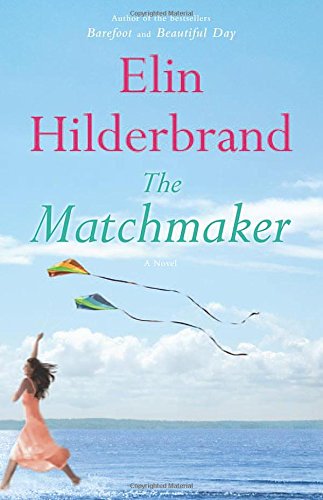 Publisher's Note:
A touching new novel from bestselling author Elin Hilderbrand in which a woman sets out to find love for those closest to her - before it's too late.

48-year-old Nantucketer Dabney Kimball Beech has always had a gift for matchmaking. Some call her ability mystical, while others - like her husband, celebrated economist John Boxmiller Beech, and her daughter, Agnes, who is clearly engaged to the wrong man - call it meddlesome, but there's no arguing with her results: With 42 happy couples to her credit and all of them still together, Dabney has never been wrong about romance.

Never, that is, except in the case of herself and Clendenin Hughes, the green-eyed boy who took her heart with him long ago when he left the island to pursue his dream of becoming a journalist. Now, after spending 27 years on the other side of the world, Clen is back on Nantucket, and Dabney has never felt so confused, or so alive.

But when tragedy threatens her own second chance, Dabney must face the choices she's made and share painful secrets with her family. Determined to make use of her gift before it's too late, she sets out to find perfect matches for those she loves most. The Matchmaker is a heartbreaking story about losing and finding love, even as you're running out of time.
The Matchmaker
by Elin Hilderbrand
Overall Review:
Every time I read a book by Elin Hilderbrand, I am convinced yet again that the island of Nantucket is some sort of heaven. (Who wouldn't want to live on a beautiful island where little shops abound and you have the sound of the ocean to lull you to sleep at night?) The way she describes her characters' lives on this island is whimsical and day-dreamy. Even though they always have some sort of drama going on, in the end it seems to get sorted out and all misunderstandings are patched over.
This newest book by Hilderbrand tells the story of several women living on the island. One of them has a somewhat magical ability to see auras around people who are in love, and the rest of the women seem to have a penchant for falling in love with the wrong men. It took me a little bit of time to get used to the mystical aspect of the aura reading. Although I like a little bit of that kind of thing in books, but I certainly wasn't expecting it from this one.
This book is told from several characters' point of view--most often from the women, but a portion is told from some of the male characters' perspectives. This was a little difficult to keep track of at times. This book seemed to have a little bit of something for everyone, and makes a wonderful summer read.
Content Analysis:
Profanity/Language: 10 mild obscenities; 11 religious profanities; 5 scatological words; 6 anatomical terms; 4 F-Word derivatives.
Violence/Gore: A family pet dies; a fist fight involving blood is mentioned; an alcoholic character drinks self to death; a character is mentioned to have died in a boating accident; a man is mentioned to be abusive to his girlfriend, with one descriptive scene.
Sex/Nudity: Adults kiss; cheating is mentioned several times; a man is mentioned to be having an affair; several brief mentions of sexual innuendo with no detail; a woman is mentioned to be pregnant out of wedlock; gay lifestyles are mentioned with no explicit detail; one undetailed sex scene involving nudity described; prostitution is mentioned with no detail.
Mature Subject Matter:
Supernatural, abandonment, abuse.
Alcohol / Drug Use:
Adults drink; smoking marijuana is mentioned; drug overdose mentioned.
Reviewed By Lydia