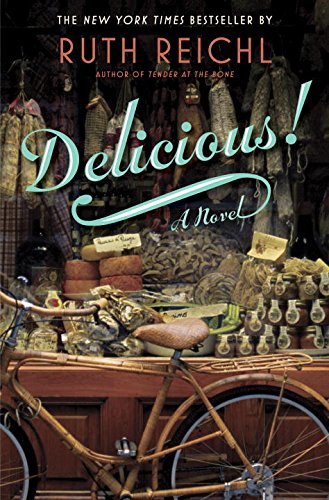 Publisher's Note:
Ruth Reichl is a born storyteller. Through her restaurant reviews, where she celebrated the pleasures of a well-made meal, and her bestselling memoirs that address our universal feelings of love and loss, Reichl has achieved a special place in the hearts of hundreds of thousands of readers. Now, with this magical debut novel, she has created a sumptuous, wholly realized world that will enchant you.

Billie Breslin has traveled far from her home in California to take a job at Delicious!, New York's most iconic food magazine. Away from her family, particularly her older sister, Genie, Billie feels like a fish out of water—until she is welcomed by the magazine's colorful staff. She is also seduced by the vibrant downtown food scene, especially by Fontanari's, the famous Italian food shop where she works on weekends. Then Delicious! is abruptly shut down, but Billie agrees to stay on in the empty office, maintaining the hotline for reader complaints in order to pay her bills.

To Billie's surprise, the lonely job becomes the portal to a miraculous discovery. In a hidden room in the magazine's library, Billie finds a cache of letters written during World War II by Lulu Swan, a plucky twelve-year-old, to the legendary chef James Beard. Lulu's letters provide Billie with a richer understanding of history, and a feeling of deep connection to the young writer whose courage in the face of hardship inspires Billie to comes to terms with her fears, her big sister and her ability to open her heart to love.
Delicious!: A Novel
by Ruth Reichl
Overall Review:
I think before I started reading this book, I subconsciously made the decision to avoid reading anything about it. I was seeing it on the covers of book review magazines, and hearing about it from friends on Goodreads and Facebook. I knew a little bit about the premise of the story, but other than that I was pretty uninformed. Well, now I know what all the fuss was about--and I am ready to make a little noise about this title myself.
The main character in this book, Billie Breslin, reminded me a bit of characters in some of my favorite books by Aimee Bender. Billie is a smart college drop-out who isn't afraid to speak her mind, and has a talent for taste. She can pick out flavors and ingredients in recipes, and often it seems like she just knows, has an intuition, about what flavor a recipe should convey. These things made for a charming and endearing character that was easy to fall in like with. By the end of the first chapter, I was hooked.
For a debut novel, this is a stunner. It had the feel of a book that was authored by someone who has written many previous books, which is why when I looked up Ruth Reichl's author page on Amazon, I was not surprised at all to see she has authored many non-fiction books. This woman knows her stuff. Not only can she write, but she can write about food. And people. And love. And then she wraps it all up in a pretty book with a wonderful cover. What more could you ask for?
Content Analysis:
Profanity/Language: 7 religious exclamations; 10 mild obscenities; 2 anatomical terms.
Violence/Gore: War is mentioned several times with little detail except to mention deaths of soldiers; an individual is mentioned to have died in a car accident.
Sex/Nudity: Adults kiss several times; sex is referred to several times.
Mature Subject Matter:
War, death, personal crises.
Alcohol / Drug Use:
Drug use and drug abuse mentioned; adults drink.
Reviewed By Lydia