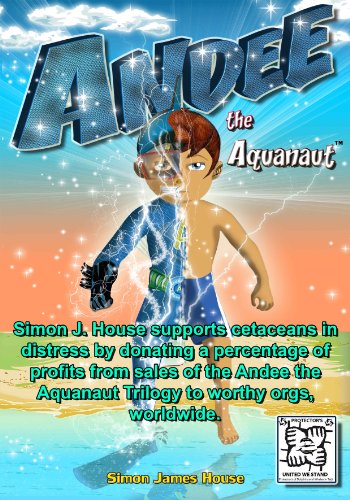 Publisher's Note:
Andee is a young boy living on an island. His parents are marine biologists who search the reef for new sea-life that could cure illnesses. Andee befriends two young dolphins, Tingo and Tango. One day a great storm rips across the island and the waves pull Andee out to sea. In their dinghy, in the storm, his parents are lost forever.

Tingo and Tango save Andee and he becomes one with his new dolphin family. Little does he know - he is the Chosen One.

Many quests and adventures await him. Special powers are given to him, allowing him to be one of the great and legendary Aquanauts of the Marine Kingdom; the Lost City.

His purpose at first is to assist and protect all marine life. But he's destined for a far greater purpose than that. Sent on quests and adventures by the Wise White Dolphin, he faces turmoil beyond his imagination and discovers that there are many dark and evil forces standing in his way.

Will Andee succeed? Can he fight off the evil that lurks in the depths of the oceans, and save all marine life? And will he ever get home to find his parents?

This fast action story will appeal to children ages 6 through 12 as it takes them through Andee's transformation and adventures with the dolphins and other creatures of the sea.

The twenty-four colorful and exciting illustrations by professional artist Zoran Zlaticanin bring the story to life and keep even the youngest readers immersed in the story.

The author supports cetaceans in distress by donating a percentage of profits from sales of the Andee the Aquanaut Trilogy to worthy organizations worldwide.
This book was sent to Compass Book Ratings for review by the Author
Andee the Aquanaut
by Simon J House
Overall Review:
As 'Protector of all marine life and Guardian of the Sea' Andee the Aquanaut takes us through an ocean full of adventures, all aimed at helping children learn to be wise stewards of the sea. From being adopted by a dolphin family, being chased by giant pre-historic fish, befriending not only a jelly fish but a mermaid as well, Andee has quite the adventurous life to introduce us to.
Andee the Aquanaut: Guardian of the Great Sea by Simon J. House was a fast-paced book with colorful illustrations throughout that would be a great introduction for young readers on doing their part to protect the environment. It went through the typical situations of poaching, dolphins getting caught in nets, and fishing exotic and rare animals, but it also included a lot of action and adventure which will make it appealing to all ages and both boys and girls.
Content Analysis:
Profanity/Language: None
Violence/Gore: Boat crashes and burns; character almost drowns; 2 detailed scenes of several pages with sea monster-type fish attacking people/mermaids, including description of the deaths of two mermen.
Sex/Nudity: A few accounts of kissing on the cheek, hugging; illustrations include pictures of merpeople without shirts (men) or bikini type tops (women).
Mature Subject Matter:
Separation from parents, death of parent.
Alcohol / Drug Use:
None
Reviewed By Sally