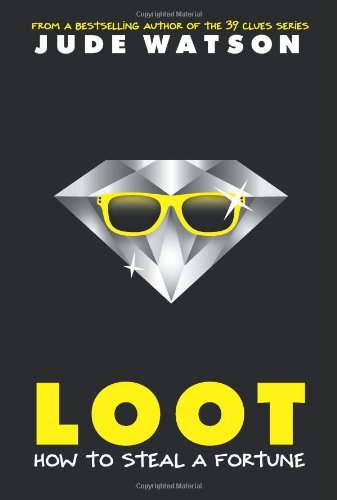 Publisher's Note:
Hijinks, heists, high-octane action in Jude Watson's new middle grade blockbuster!

On a foggy night in Amsterdam, a man falls from a rooftop to the wet pavement below. It's Archibald McQuinn, the notorious cat burglar, and he's dying. As sirens wail in the distance, Archie manages to get out two last words to his young son, March: "Find jewels."

But March learns that his father is not talking about hidden loot. He's talking about Jules, the twin sister March never knew he had. No sooner than the two find each other, they're picked up by the police and sent to the world's worst orphanage. It's not hard time, but it feels like it.

March and Jules have no intention of staying put. They know their father's business inside and out, and they're tired of being pushed around. Just one good heist, and they'll live the life of riches and freedom that most kids only dream about. . . . .

Hold on to your pearls, because this summer, the world's youngest criminal masterminds are coming for you.
This book was sent to Compass Book Ratings for review by Scholastic Press (A Scholastic Imprint)
Loot
by Jude Watson
Overall Review:
Loot, by Jude Watson, is a fun romp through the shadier side of the law. The characters are engaging and realistic, the plots (both storyline and within the story) keep the reader guessing until the end, and touches of mystery and mysticism add fun and flavor. The capers pulled by March and his "gang" have a definite "Sherwood Forest" feel, and it is easy to find yourself rooting for the young thieves. The fact that every adult character in a position of authority is corrupt was a touch disturbing, though perhaps that will be appealing to young tweens and teens searching out their own places in a grown-up world. There is definitely a feeling of "kid power" throughout the book, openly acknowledged by Watson's dedication "to bad children everywhere." Overall, this book is just fun.
Content Analysis:
Profanity/Language: None
Violence/Gore: Character falls off a cliff; character falls off of a building, dies in front of his son; several verbal threats; character held by collar until almost blacks out; character kicks another and breaks wrist; several close calls with death but no injuries.
Sex/Nudity: None
Mature Subject Matter:
Death of parents, mistreatment of children in foster homes.
Alcohol / Drug Use:
None
Reviewed By Kristen