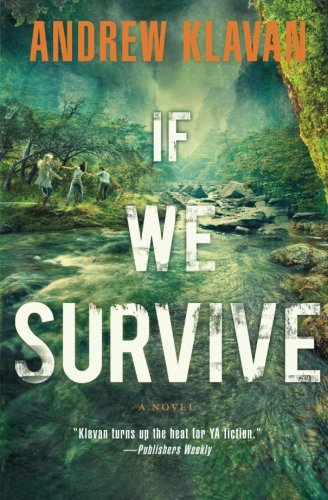 Publisher's Note:
They came on a mission of mercy, but now they're in a fight for their lives.
High schooler Will Peterson and three friends journeyed to Central America to help rebuild a school. In a poor, secluded mountain village, they won the hearts of the local people with their energy and kindness.
But in one sudden moment, everything went horribly wrong. A revolution swept the country. Now, guns and terror are everywhere—and Americans are being targeted as the first to die.
Will and his friends have got to get out fast. But streets full of killers . . .hills patrolled by armies . . . and a jungle rife with danger stand between them and the border. Their one hope of escape lies with a veteran warrior who has lost his faith and may betray them at any moment. Their one dream is to reach freedom and safety and home.
If they can just survive.
This book was sent to Compass Book Ratings for review by Thomas Nelson
If We Survive
by Andrew Klavan
Overall Review:
It all begins when four youth take a mission trip to Costa Verde with their pastor on what was expected to be an uneventful yet fulfilling visit. They've accomplished their goal and are just about to head home when things take a deadly turn, thus the fitting title If We Survive. This is the perfect guy read with its action and adventure but it even has some hints of girl material to appeal to both genders. Klavan is always amazing at building his characters so that you feel as if you personally know them. He also knows how to build suspense--this book gets crazy intense. While reading you can just picture everything perfectly, almost as if you're watching a movie (and this story would make a fantastic movie). Check out If We Survive for another edge-of-your-seat read by Andrew Klavan.
Content Analysis:
Profanity/Language: 1 mild obscenity.
Violence/Gore: Many (35) brief incidents including character likes to play violent video games; thinking about beating someone up if they got in a fight; verbal threats; threatened with guns; shooting in direction of people to distract (no one hurt); thinking about life threatening animals around them; second hand reports of characters getting killed; thinking about characters getting sacrificed; story of character dying of cancer; mention of baby dying; characters in place where dead people buried; hearing gunshots in the distance; seeing characters after they have been beat; story of bully punching someone; character remembers a funeral; character's hair pulled; character has bruises from getting hit; characters getting hit (non-life threatening injuries result); characters almost getting killed by animal; character has scary dream about skeletons; buildings and vehicles destroyed by vandals; characters getting shot and killed.
Sex/Nudity: Few (7) brief incidents including kissing; male characters leering at female characters; flirting; touching cheek.
Mature Subject Matter:
Murder, war.
Alcohol / Drug Use:
As part of a ceremony, a statue is given pipe to smoke; adults drink beer at restaurant; adult characters get drunk in the street; characters smoke cigarettes.
Reviewed By Jenny