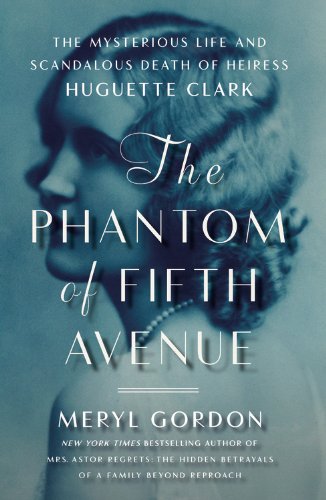 Publisher's Note:
Born in 1906, Huguette Clark grew up in her family's 121-room Beaux Arts mansion in New York and was one of the leading celebrities of her day. Her father William Andrews Clark, was a copper magnate, the second richest man in American, and not above bribing his way into the Senate.

Huguette attended the coronation of King George V. And at twenty-two with a personal fortune of $50 million to her name, she married a Princeton man and childhood friend William MacDonald Gower. Two-years later the couple divorced. After a series of failed romances, Huguette began to withdraw from society--first living with her mother in a kind of Grey Gardens isolation then as a modern-day Miss Havisham, spending her days in a vast apartment overlooking Central Park, eating crackers and watching The Flintstones with only servants for company.

All her money and all her real estate could not protect her in her later life from being manipulated by shady hangers-on and hospitals that were only too happy to admit (and bill) a healthy woman. But what happened to Huguette that turned a vivacious, young socialite into a recluse? And what was her life like inside that gilded, copper cage?
The Phantom of Fifth Avenue: The Mysterious and Scandalous Death of Heiress Huguette Clark
by Meryl Gordon
Overall Review:
I have always been fascinated by large houses, even if they aren't quite mansions. When I was young, some of my favorite books involved detailed descriptions of houses that the characters lived in (especially huge Victorian things that had rooms upon rooms and little nooks and crannies). Although The Phantom of Fifth Avenue doesn't hold a lot of descriptions about decor and the insides of large houses, the story behind it leaves the reader with beautiful images of mansions flickering through their mind's eye.
This book tells the fantastical, yet true, story of Huguette Clark, a woman who for many years was a recluse whom no one knew very much about. I was first introduced to her story in the book Empty Mansions, which was on several best seller lists for quite a few weeks. It strikes me as a little funny how this woman, who for years tried to hide away from society, now has such a well-known and popular story.
I quite enjoyed this book, especially after reading Empty Mansions. This book gave me just the right amount of information and back story, and wasn't quite as long and technical as Mansions, a book that, though well researched and written, left me a bit exhausted. I was charmed by the story of a young woman who grew up with only the best in life, and collected intricate dolls and other precious items. I think she would have been an interesting person to know. Though she passed away quietly in 2011, her story lives on in books and museums. What an interesting story indeed!
Content Analysis:
Profanity/Language: 1 mild obscenity.
Violence/Gore: Miscarriages mentioned; death of young children from an illness is mentioned.
Sex/Nudity: An affair scandal is mentioned; sexual harassment and advances by a man towards minors are mentioned several times.
Mature Subject Matter:
Divorce.
Alcohol / Drug Use:
Adults drink; adults smoke.
Reviewed By Lydia