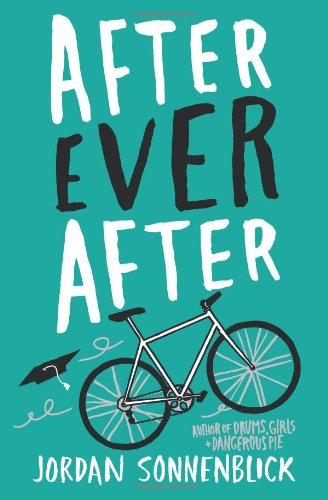 Publisher's Note:
An amazing sequel to the groundbreaking Drums, Girls, and Dangerous Pie.
Jeffrey isn't a little boy with cancer anymore. He's a teen in remission. Even though the cancer should be far behind him, life still feels fragile. His parents still worry about him. His older brother, Steven, who has always been Jeffrey's main support system and confidant, lost it and took off to Africa to be in a drumming circle and "find himself." His best friend, Tad, is hatching some kind of secretive, crazy plan, which is driving him bonkers. And there is a girl who is way out of his league but who thinks he's cute.
Profound, funny, and utterly original, After Ever After promises laughter and tears and characters who will live with readers long after the story is over.
This book was sent to Compass Book Ratings for review by Scholastic
After Ever After
by Jordan Sonnenblick
Overall Review:
Jordan Sonnenblick's first novel Girls, Drums, and Dangerous Pie, was so wonderful that I was eager to read its sequel, After Ever After. I was pleasantly surprised and pleased that Sonnenblick was able to recreate the magic of its predecessor that had me laughing and sobbing all in one page (sometimes in the same paragraph). Picking up eight years later and this time told from the point of view of Jeffery Alper, a cancer survivor, readers who read the first novel will be delighted that Jeffery has a similar (same wit and humor), but different voice (different experiences lead to different points of view) than his brother Steven, who narrated the first book.
Although it is not necessary to read the books in order, the reader will find more clarity if they stick to the author's chronology. After it's all said and done, Jeffery confesses that handling cancer and cancer treatments, although hard, do not prepare you for the difficulty of actually living life after cancer.
"I don't remember most of the details, but I know that being treated for leukemia was torture. The funny thing is, the treatment is nothing compared to what happens after you're "cured". And that's the most annoying thing in the world: They tell you how lucky you are to be cured, like you've escaped a death sentence. But being a cancer survivor can be a life sentence all its own." (Excerpt from After Ever After)
Splendidly told, this book gives a provocative, yet tasteful insight into the difficulties one must face as a survivor of cancer. Surviving cancer is one thing, but not remaining a victim of cancer takes survival skills all its own. Praise to Jordan Sonnenblick for yet again being able to create insight, love, and laughter while shining light on a dark subject!
Content Analysis:
Profanity/Language: 12 religious exclamations; 2 mild obscenities; 1 offensive hand gesture. Note: not included in the tally- a few times a character calls another character "D.A." first letter meaning dumb second letter referring to the posterior; character says, "H-E-double-hockey-sticks."
Violence/Gore: Mention of hospitalization and needles; brief mention of characters playing a violent video game; character has a disturbing nightmare; two reports of death.
Sex/Nudity: Characters flirt, hug, and hold hands a few times; 2 separate occasions where it is implied that characters kissed; a few sexual innuendos where characters joke about each other's mothers (similar to "yo-momma" jokes).
Mature Subject Matter:
Death, terminal illness, mental and physical disabilities.
Alcohol / Drug Use:
Mention of medical drugs; character makes of a joke about crack; character makes a general remark that some kids do drugs.
Reviewed By MaryLou