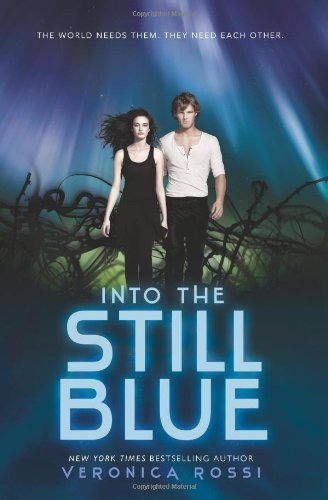 Publisher's Note:
The earth-shattering conclusion to Veronica Rossi's epic Under the Never Sky trilogy, and sequel to the New York Times and USA Today bestselling Through the Ever Night.
Their love and their leadership have been tested. Now it's time for Perry and Aria to unite the Dwellers and the Outsiders in one last desperate attempt to bring balance to their world.
Perfect for fans of the Hunger Games and Divergent series, Veronica Rossi's trilogy has been called "inspired, offbeat, and mesmerizing" (Kirkus Reviews, starred review) and "incredibly original" (Seventeen.com). Brimming with romance and danger and building to a climax that will leave you breathless, Into the Still Blue brings this "masterpiece" trilogy to an unforgettable close (Examiner.com).
Into the Still Blue
by Veronica Rossi
Overall Review:
Breathe a big sigh of relief because author Veronica Rossi manages to pull off a successful conclusion to her trilogy--a rare feat. (However, the cover for the third book is still misrepresentative of the protagonists and disappointing.) Into the Still Blue starts out intensely, with some of the best action scenes of the trilogy making the first two-thirds of the book difficult to put down. Also, Peregrine, the male protagonist, does not disappoint. This final book doesn't delve into some of the early themes about loyalty and prejudice and so it lacks the texture of the first two novels in the series. It is almost as if the author takes the bit between her teeth and heads for home at a furious gallop, knowing exactly what ending she wants for her series and in a hurry to accomplish it. Although there are no real surprises and some predictable cliche elements, it is perhaps this straight course that allows the series to end successfully without unraveling. A young adult series worth recommending!
Content Analysis:
Profanity/Language: 5 mild obscenities; 3 derogatory names; 1 anatomical term.
Violence/Gore: Reference/reports of deaths from previous books; confrontation with gunshots, physical force, and non-detailed deaths/injury; character knocked unconscious; fight involving guns, stun guns, hitting, kicking, knocked unconscious; implication that people were killed to silence them; scene of torture where character is beat with a mallet, some details; characters knocked unconscious, shot; extended fight scene with shooting, fighting, explosions, characters knocked unconscious, characters killed by gunshot (general description) and one person is killed by knife, with brief description and mention of blood; characters shot and killed, non-detailed; character kicked in head; character knocked unconscious, character put in headlock with death implied; scene of fighting with hitting, threatening, shooting, and a brief fight ending in the death of a character, with brief description.
Sex/Nudity: Characters kiss passionately; characters embrace and hold each other; characters kiss passionately with desire; passionate kissing with hand on thigh and under shirt; character thinks about having a bed with another character in it; feelings of desire; hug; character lays on back with another on top of them, kissing passionately (ages 18+) and further sexual activity could be inferred/implied, but nothing is described/written as the scene ends.
Mature Subject Matter:
Death, betrayal, prejudice.
Alcohol / Drug Use:
Characters are drugged so they can be controlled; character is drugged for pain; characters drink an alcholic beverage.
Reviewed By Cindy