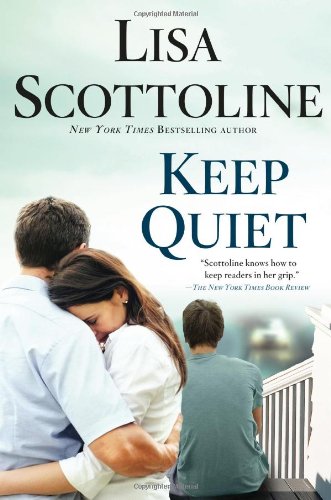 Publisher's Note:
New York Times bestselling and Edgar Award winning author Lisa Scottoline is loved by millions of readers for her suspenseful novels about family and justice. Scottoline delivers once again with Keep Quiet, an emotionally gripping and complex story about one man's split-second decision to protect his son - and the devastating consequences that follow.
Jake Buckman's relationship with his sixteen-year-old son Ryan is not an easy one, so at the urging of his loving wife, Pam, Jake goes alone to pick up Ryan at their suburban movie theater.? On the way home, Ryan asks to drive on a deserted road, and Jake sees it as a chance to make a connection. However, what starts as a father-son bonding opportunity instantly turns into a nightmare. Tragedy strikes, and with Ryan's entire future hanging in the balance, Jake is forced to make a split-second decision that plunges them both into a world of guilt and lies. Without ever meaning to, Jake and Ryan find themselves living under the crushing weight of their secret, which threatens to tear their family to shreds and ruin them all. Powerful and dramatic, Keep Quiet will have readers and book clubs debating what it means to be a parent and how far you can, and should, go to protect those you love.
Keep Quiet
by Lisa Scottoline
Overall Review:
I've read numerous books by Lisa Scottoline. For the most part, they seem to run along the same lines, but perhaps I am just too harsh on mystery novels. I often feel, when reading a mystery, that I am being fed the same story I was last time. There are all the clues, mysterious people and circumstances, and then we learn some background information, and finally we hear the conclusion--which I can often predict.
Keep Quiet was a decent read. I enjoyed how some of the focus was on Ryan, a minor who is just trying to be good at sports and make his father proud. When tragedy strikes and his understanding of family is upended, this causes him to learn how to lean on his parents for the support he has always craved. This element lent the book an interesting perspective, and at times made me feel like I was reading a young adult novel. Though sometimes the suggested situations were a little far-fetched, I tried to look past that and dedicate my attention to the underlying mystery. Many of the circumstances in this book reminded me of something I would see in the headlines of a newspaper and the story was one that didn't jump around too much, so I was able to keep all of the characters straight.
All in all I recommend this book. Even if you aren't a Scottoline fan, this one might sway your opinion. It kept me on the edge of my seat throughout the whole book!
Content Analysis:
Profanity/Language: 11 religious exclamations; 12 mild obscenities; 2 scatological words; 2 anatomical terms; 1 F-Word derivative.
Violence/Gore: A character is accused of murder; a hit and run occurs, with some blood mentioned; a character is shot and wounded, some blood is briefly described; a man is mentioned to be stalking a female minor.
Sex/Nudity: An affair is mentioned with no detail; sex is referred to several times, with no detail; a man and woman are mentioned to have sex, with some brief, unexplicit detail involving sexual innuendo; pornographic statues are mentioned with no description; a woman's body is briefly described in a sexual way.
Mature Subject Matter:
Death, drug use, murder.
Alcohol / Drug Use:
Minors smoke weed, this is mentioned several times.
Reviewed By Lydia