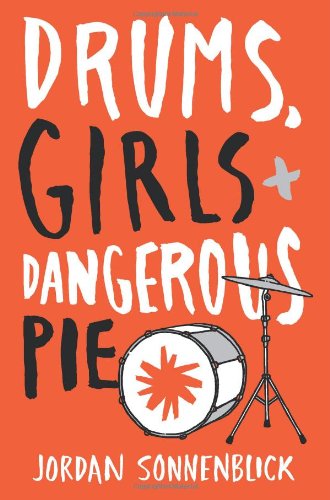 Publisher's Note:
A brave and beautiful story that will make readers laugh, and break their hearts at the same time. Now with a special note from the author!
Steven has a totally normal life (well, almost).
He plays drums in the All-City Jazz Band (whose members call him the Peasant), has a crush on the hottest girl in school (who doesn't even know he's alive), and is constantly annoyed by his younger brother, Jeffrey (who is cuter than cute - which is also pretty annoying). But when Jeffrey gets sick, Steven's world is turned upside down, and he is forced to deal with his brother's illness, his parents' attempts to keep the family in one piece, his homework, the band, girls, and Dangerous Pie (yes, you'll have to read the book to find out what that is!).
This book was sent to Compass Book Ratings for review by Scholastic
Drums, Girls, and Dangerous Pie
by Jordan Sonnenblick
Overall Review:
First time novelist Jordan Sonnenblick's Drums, Girls, and Dangerous Pie strikes a chord--not some painful attempt at a note, but a beautiful beat that's truly melodic. He tells the story of Steven, a regular 13 year old eighth grader, a real average Joe. Things quickly become anything but average when Steven's little brother becomes sick with cancer. Told in first person format, the reader almost feels an intruder taking a peek at a young man's journal as he tells every heart-wrenching detail of his life. A wonderful book for young readers or even those who are cough, cough...a little older in years, you'll be impressed that a book told from the perspective of a 13 year old boy can be so thought-provokingly beautiful, while still being light-hearted and funny. No idea how Sonnenblick, who was inspired by one of his young student's experience dealing with her younger brother's diagnosis of cancer, wrote this novel in just 12 weeks. 12 weeks to construct an amazing novel--it's completely insane! A quick-witted truthful account of what it's like to deal with life while dealing with a sibling who is battling cancer, Drums, Girls, and Dangerous Pie doesn't miss a beat. Hungry for more Jordan Sonnenblick's Pie? Don't fret, the story continues in the sequel After Ever After.
Content Analysis:
Profanity/Language: 18 religious exclamations.
Violence/Gore: Non-life threatening injury occurs when character falls hitting head, nose bleeds heavily; a few mentions of medical procedures, needles, and blood work; characters has angry violent thoughts; character has disturbing nightmares; character falls down stairs breaking arm; 2 comical scenes where character has an accident and bites the inside of his cheek, some blood mentioned; character passes away.
Sex/Nudity: A few mentions of teenage girl wearing tight revealing clothing and teenage boy(s) admiring her body; married couple kisses; teen girl gives teen boy a kiss on cheek; teen boy and teen girl hold hands and hug.
Mature Subject Matter:
Mental and physical health, cancer, debt/economic crisis, death of friend.
Alcohol / Drug Use:
References to medical drugs such as chemotherapy, steroids, and antibiotics.
Reviewed By MaryLou