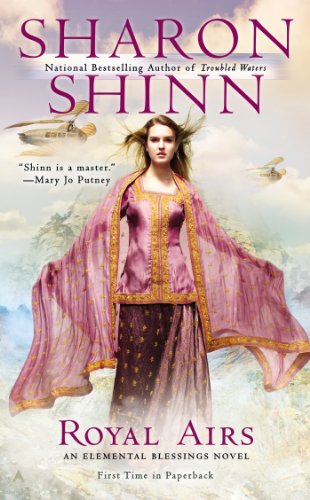 Publisher's Note:
Master storyteller Sharon Shinn created the thrilling and enchanting world of Welce in her acclaimed novel Troubled Waters. Return with her to that elemental universe in this tale of secrecy, romance, and a battle for power…

Josetta is a princess of one of the Five Families. But she is far from the throne, so she is free to spend her days working in the poorest sections of the city.

Rafe Adova lives the life of a career gambler in those slums. He has no real ambition—until the night he helps a girl named Corene, who looks like she's stumbled into the wrong bar.

Josetta is fascinated by the man who has helped her sister. Rafe is unlike anyone she's encountered—someone seemingly devoid of elemental blessings.

Rafe is also drawn to Josetta, but when he is assaulted by foreign mercenaries and they discover the reason behind the attack, Rafe and Josetta realize that the truth could endanger not only their newfound love, but also their very lives….
Royal Airs
by Sharon Shinn
Overall Review:
As a sequel to Troubled Waters, Royal Airs picks up a bit later, continuing in the beautiful fantasy world with many of the same characters, but switching those who are in the spotlight. A new character, Rafe Adova, enters the scene and at first seems to be an easily overlooked addition, but we later discover that he's full of secrets that even he is unaware of. As with any story where royalty is involved, there are plenty of characters plotting for higher ranking positions, doing anything necessary to gain advancement. Fortunately, you'll also find those with integrity, who are kind and caring, and deserve their current positions on center stage but would rather bow out. The steampunk undertones with the incredible inventions that were well ahead of the book's setting make for some fun twists in the story. Sharon Shinn as usual creates amazing visuals in her writing that make her stories so appealing. If you enjoy a story of romance, fantasy or aristocracy, this will be a great book to pick up.
Content Analysis:
Profanity/Language: 10 mild obscenities; 4 religious profanities; 4 derogatory names; 2 scatological words.
Violence/Gore: Many (35) brief incidents including characters being questioned whether or not they plan to rape, kill or hold another character for ransom; knife threat; character wants to punch someone; a few incidents mentioning the possibility of death; verbal threats; many want a character dead; second hand report of character getting beat up and nearly dying; character referenced having treated people with broken bones, knife wounds and lung disease; mention of war and murder; second hand reports of suicide and murder; story told of character dying after being ill; reference to character dying in an accident; second hand report of girl getting attacked; mention that character was nearly killed; second hand report of character practically breaking all bones in an accident; character pours hot drink in another's lap; child's ear cut up; characters receive minor injuries; punching; character very hurt in accident; fights resulting in a few hurt and others killed; second hand report of children getting kidnapped; second hand reports of suicide, murder and death; character taken hostage.
Sex/Nudity: Flirting; kissing; touching face and shoulders; cuddling; holding hands; references to sex; female characters showing nude selves to male character; references to homosexual characters; prostitutes mentioned; innuendo; character's mother tells her it is okay to have a lover before getting married; reference to character getting pregnant prior to marriage; non-sexual reference of character showering nude; reference of men trying to take advantage of girls; character wonders if another's sister is a prostitute; characters questioned if they are going to rape a girl; a few incidents of implied and reported sexual activity; attempted rape.
Mature Subject Matter:
War, starvation/homelessness, hostages/kidnapping.
Alcohol / Drug Use:
Character wonders if another is a drug dealer; drinking alcohol with meals; drunk characters; character feels like they just drank; woman looks to be recently recovering from drug addiction; character sarcastically suggests that he could sell illegal drugs; adults drinking wine in celebration.
Reviewed By Jenny