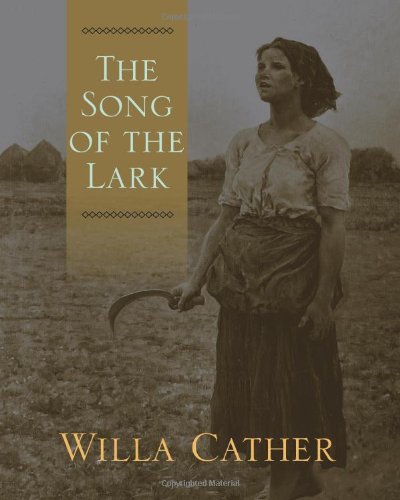 Publisher's Note:
This is Cather's coming-of-age classic---the story of a young artist who leaves the mediocrity of her home town to seek fame and success in the big city. A bittersweet reflection on severing oneself from one's past relationships and surroundings, The Song of the Lark explores the loss that ultimately accompanies an artist's highest achievements.
The Song of the Lark
by Willa Cather
Overall Review:
Although she wrote many novels, author Willa Cather is probably best known for her novels Death Comes for the Archbishop and My Antonia. The Song of the Lark is one of her lesser known works and takes its title from the painting of the same name by Jules Breton--although the painting has little to do with the subject of the book. The novel follows Thea from her humble beginnings in a small Colorado town to her ultimate success as a singer in New York City. Stylistically, the book is a bit of the hodgepodge. It begins almost as a character work, drawing the characters in vivid detail; later it dwells in long descriptive passages of the southwest and the cliff homes of the Native American cliff dwellers. By the end, it almost reads like a stage play of dialogue. Ultimately, the author was illustrating the soul of an artist and what she thought it really took to be an artist. As characteristic of Cather, the book had a romantic overtone.
If you love descriptive writing, then this may be a novel for you. Otherwise, the mixture of styles and pacing made for a slow read that never quite "hooked" this reader.
Content Analysis:
Profanity/Language: 8 religious exclamations; 8 mild obscenities; 1 derogatory name; 3 anatomical terms.
Violence/Gore: Report someone killed by train accident; report a character received a knife wound and missing a finger; character takes an ax to some property; report of deaths by typhoid fever; report that some animals were killed; character comes upon doctor stitching up a gash on a patient; scene in which character is injured in an accident and dies, non-descriptive; report of death in explosions and accidents; report of injuries in explosions and accidents; story about couple dancing off a cliff to their death; report of a wife scratching, etc. a husband.
Sex/Nudity: Nightgown removed for medical treatment, non-sexual; report of kissing; characters kiss, embrace, hold hands; sexual references such as "told filthy stories", "Looking for a friend tonight?", "telling disgusting stories", story about someone "carrying on with another", mother comments on daughter filling out; character bathes, non-sexual.
Mature Subject Matter:
Death, marriage.
Alcohol / Drug Use:
Adults smoke and drink socially; some characters drink to excess.
Reviewed By Cindy