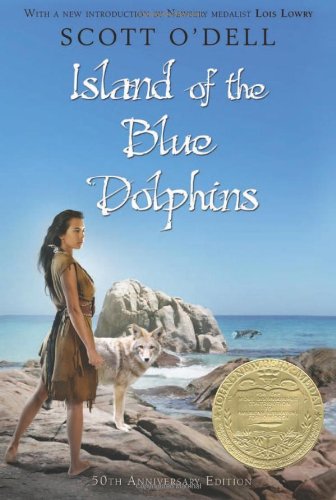 Publisher's Note:
This is the story of Karana, the Indian girl who lived alone for years on the Island of the Blue Dolphins. Year after year, she watched one season pass into another and waited for a ship to take her away.
Island of the Blue Dolphins
by Scott O'Dell
Overall Review:
A Newbery award winner and a frequently required reading book for fourth graders, Island of the Blue Dolphins by Scott O'Dell really should be required reading for everyone. The story is told in the first person by a young Native American girl, Karana. It is the ultimate survival story, illustrating resiliency, self-reliance, respect for nature, and critical thinking. From the construction of a home to the building of weapons and taming of enemies, the straight-forward account is compelling. Everything is hard-earned in Karana's world. The amount of detail is just right to draw the reader into Karana's world and to keep the narrative flowing. This novel is rich in lessons, but as all truly brilliant books, the lessons are woven and integrated into the story rather than preached. A middle grade historical fiction book that will appeal to both girls and boys, Island of the Blue Dolphins is a classic that deserves its designation and stands the test of time.
Content Analysis:
Profanity/Language: None
Violence/Gore: Hunters kill animals, mention of blood; brief, non-detailed fight involving knives, spears, etc. resulting in death and injuries; character finds body of a family member that has been killed by animals; character kills animals, non-detailed; there are many instances of hunting and fishing for food and defense; animals fight to the death and some are injured; animals fight to the death, mention of blood; death of animal by natural causes; character battles with spear and knife against a sea creature, resulting in human injuries.
Sex/Nudity: None
Mature Subject Matter:
Death of a family member, racial/ethnic conflict, isolation.
Alcohol / Drug Use:
Character uses herbs to put animals to sleep.
Reviewed By Cindy