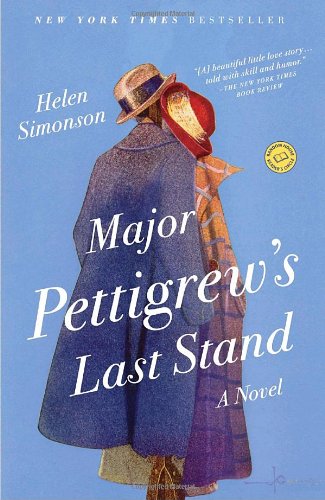 Publisher's Note:
In the small village of Edgecombe St. Mary in the English countryside lives Major Ernest Pettigrew (retired), the unlikely hero of Helen Simonson's wondrous debut. Wry, courtly, opinionated, and completely endearing, the Major leads a quiet life valuing the proper things that Englishmen have lived by for generations: honor, duty, decorum, and a properly brewed cup of tea. But then his brother's death sparks an unexpected friendship with Mrs. Jasmina Ali, the Pakistani shopkeeper from the village. Drawn together by their shared love of literature and the loss of their spouses, the Major and Mrs. Ali soon find their friendship blossoming into something more. But village society insists on embracing him as the quintessential local and regarding her as the permanent foreigner. Can their relationship survive the risks one takes when pursuing happiness in the face of culture and tradition?
Major Pettigrew's Last Stand
by Helen Simonson
Overall Review:
Major Pettigrew is the quintessential English gentleman trying to retain his dignity in a world that increasingly deviates from the standards and expectations of his generation. While dealing with the death of his brother, inheritance difficulties, a shallow son and his American girlfriend, Major Pettigrew discovers he is not too old for romance as he befriends the widow, Mrs. Ali. This book takes a leisurely pace and raises a lot of issues surrounding parent-adult child interaction, the difficulties of inheritances, changing moral standards, and later-life romances. More character-driven than plot-driven, the charm is in the main character. Major Pettigrew is so captivatingly English! His dry English wit is woven throughout the book and I found myself cheering him on!
Content Analysis:
This book was a clean enough read that I recommended it to my mother-in-law! There are some instances of mild profanity.
Sexual content consists of references to a child born out-of-wedlock, an abortion, and co-habitation. Two characters "spend the night" together, but it is reported and not described. Instances are for the most part not described in detail, but reported as events.
There is some mild violence. One instance of strong violence is merely reported as having occurred and there is not an overly graphic description of the act.
Mature Subject Matter:
The recommended older age is due to the theme content and pacing. This is a book about ethnic prejudices, aging, older parents, adult children, and relationships. The themes aren't difficult, but perhaps wouldn't be engaging to a younger reader who lacks a point of reference for connection. The pacing is deliberate and restrained…a little like the title character.
Alcohol / Drug Use:
***
Reviewed By Cindy