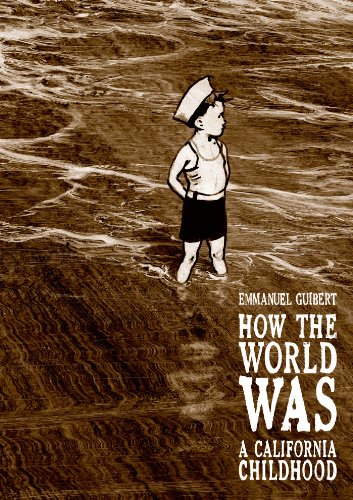 Publisher's Note:
In 1994, French cartoonist Emmanuel Guibert befriended an American veteran named Alan Cope and began creating his new friend's graphic biography. Alan's War was the surprising and moving result: the story of Cope's experiences as an American GI in France during World War II.
How the World Was is Emmanuel Guibert's moving return to documenting the life of his friend. Cope died several years ago, as Guibert was just beginning work on this book, but Guibert has kept working to commit his friend's story to paper. Cope grew up in California during the great depression, and this remarkable graphic novel details the little moments that make a young man's life...while capturing the scope of America during the great depression.
A lyrical, touching portrait, How the World Was is a gift for a dear friend in the last moments of his life... and also a meditation on the birth of modern America.
This book was sent to Compass Book Ratings for review by First Second Books
How the World Was: A California Childhood
by Emmanuel Guibert
Overall Review:
I have very mixed feelings about this book. The artwork is fantastic, and the story is a delightful trip down memory lane. Having grown up in California myself, I loved the visual imagery and relived a few memories of my own as I read.
On the other hand, the narrative is minimalistic at best, and it wanders around. Reading the book is very much like sitting down with Grandpa to look at pictures and hear about his childhood in a stream-of-consciousness fashion. This offers a certain charm, but the fact that I'm not related to this particular grandpa meant that I struggled to maintain interest at some points.
The story seems to be written directly from dictation, and the beautiful illustrations do add quite a bit of detail. Sometimes, however, there aren't enough details or parenthetical statements to help a reader along. For example, roller skates could have been expanded on a little bit to help younger readers understand how they worked. As it is, we just see a picture of roller skates. I'm not sure a young reader would even be able to identify what they were.
Young adults reading The Grapes of Wrath might be interested in a different perspective on California life at this time in history. But there are a couple of odd scenes, like the one in which Cope's mother discusses his penis with him at length, that while eventually making a point about how you never know what will stick with you and affect your life, is quite jarring and strange--especially for younger readers. The experience affected Cope profoundly, but it doesn't translate to the reader except to cause some head shaking.
Because this is a personal history and not an intentionally developed narrative, not much happens. In fact, there are a lot of dead ends--a friend is made, good times are shared, and then the kids never see each other again. While that's realistic, it doesn't make for great storytelling.
It's difficult to identify the kind of reader this story might appeal to. It seems to have a very limited audience--grandchildren of the narrator, perhaps, or people like me who grew up in the same part of the country in an era when many of the things Cope talks about were still around. I'm certain that Cope was a man worth knowing. His deep introspection and personal insights are fascinating. This book leaves me wishing I could have met him, but not really wanting to pass the story along.
Content Analysis:
Profanity/Language: None
Violence/Gore: Two people wrestle and fistfight; a character punches another character.
Sex/Nudity: Masturbation is mentioned; a child discusses a physiological problem with his penis with his mother after his bath; married characters' sex lives are referred to twice; a character's breasts are referred to; it is mentioned that a character has a nice body.
Mature Subject Matter:
Death of a family member, war, poverty.
Alcohol / Drug Use:
None
Reviewed By Leslie