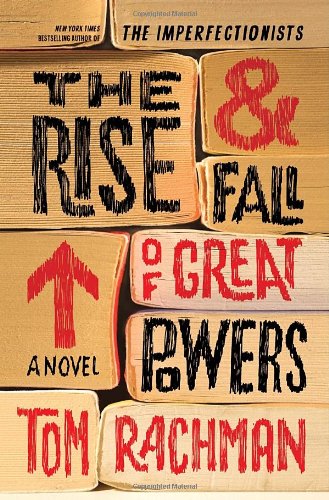 Publisher's Note:
For fans of Jennifer Egan, Dave Eggers, and Donna Tartt—the brilliant, intricately woven new novel by Tom Rachman, author of The Imperfectionists

Following one of the most critically acclaimed fiction debuts in years, New York Times bestselling author Tom Rachman returns with a brilliant, intricately woven novel about a young woman who travels the world to make sense of her puzzling past.

Tooly Zylberberg, the American owner of an isolated bookshop in the Welsh countryside, conducts a life full of reading, but with few human beings. Books are safer than people, who might ask awkward questions about her life. She prefers never to mention the strange events of her youth, which mystify and worry her still.

Taken from home as a girl, Tooly found herself spirited away by a group of seductive outsiders, implicated in capers from Asia to Europe to the United States. But who were her abductors? Why did they take her? What did they really want? There was Humphrey, the curmudgeonly Russian with a passion for reading; there was the charming but tempestuous Sarah, who sowed chaos in her wake; and there was Venn, the charismatic leader whose worldview transformed Tooly forever. Until, quite suddenly, he disappeared.

Years later, Tooly believes she will never understand the true story of her own life. Then startling news arrives from a long-lost boyfriend in New York, raising old mysteries and propelling her on a quest around the world in search of answers.

Tom Rachman—an author celebrated for humanity, humor, and wonderful characters—has produced a stunning novel that reveals the tale not just of one woman but of the past quarter-century as well, from the end of the Cold War to the dominance of American empire to the digital revolution of today. Leaping between decades, and from Bangkok to Brooklyn, this is a breathtaking novel about long-buried secrets and how we must choose to make our own place in the world. It will confirm Rachman's reputation as one of the most exciting young writers we have.
This book was sent to Compass Book Ratings for review by The Dial Press
The Rise and Fall of Great Powers
by Tom Rachman
Overall Review:
Reading Tom Rachman's The Rise and Fall of Great Powers was similar to assembling a puzzle. The story was initially hard to decipher, with its three different time periods, and I wasn't sure how certain details and plot pieces fit together. Yet the premise was intriguing and Rachman knows how to keep readers attentive and eager to continue to the next chapter. Rachman also has a real way with words and regularly uses literary devices like personification and metaphor to enhance his tale. As I drew closer to the ending, the story's events began making sense and my confusion lessened. Main character Tooly makes a fascinating heroine and the book not only follows her journey but touches on subjects like classical literature, history and modern-day politics. While it's not what I expected, The Rise and Fall of Great Powers is a well-written read.
Content Analysis:
Profanity/Language: 9 religious exclamations, 18 mild obscenities, 2 religious profanities, 11 derogatory names, 8 scatological words, 8 anatomical terms, 1 offensive hand gesture and 15 f-word derivatives.
Violence/Gore: Secondhand reports of violence involving World War II, African genocide, jail and physical beating; a few violent scenes involving brawls and fighting; kidnapping.
Sex/Nudity: A few incidents of kissing; a few non-sexual depictions of nudity; several sexual references and implied incidents of sexual activity; a mention of pornography; a scene with touching, caressing and nudity with sexual innuendo; an incidence of sexual activity without explicit detail between adults; mention of homosexuality.
Mature Subject Matter:
Underage drinking, stealing, con artists, underage smoking and drug use.
Alcohol / Drug Use:
Characters frequently drink and smoke; drug use; underage drinking, smoking and drug use.
Reviewed By Rachel