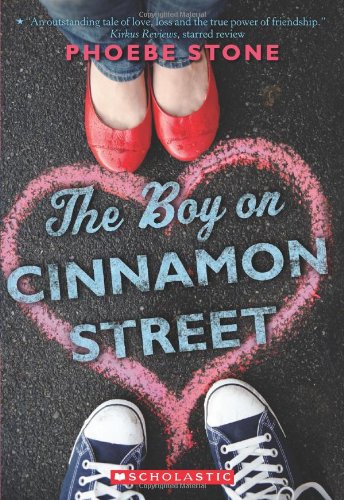 Publisher's Note:
A story about a wounded girl and the boy who won't give up on her.

7th grader Louise should be the captain of her school's gymnastics team - but she isn't. She's fun and cute and should have lots of friends - but she doesn't. And there's a dreamy boy who has a crush on her - but somehow they never connect. Louise has everything going for her - so what is it that's holding her back?

Phoebe Stone tells the winning story of the spring when 7th grader Louise Terrace wakes up, finds the courage to confront the painful family secret she's hiding from - and finally get the boy.
The Boy on Cinnamon Street
by Phoebe Stone
Overall Review:
I find the title and cover of this book to be delicious. A street by the name of Cinnamon? (Would it be a spoiler to say that there are other streets mentioned in this book that also have the names of spices?) I first saw a review of this book in The Horn Book. I started reading the review and knew this sounded like a book I would like, despite the fact that it is probably geared more for a middle-schooler. With all the controversy over what adults and young adults should and should not be reading, I just decided to go for it. I decided to be seen reading a book whose cover may look cute, but probably comes across as a little juvenile in the hands of a twenty-year-old woman. Never for a moment did I regret my decision.
The main character, Louise, is a character who is easy to admire, relate to, and adore all at once. Though she has her share of hardships, she tries to make the most of her assets and find a positive side to everything. One thing I related to (and many middle-schoolers probably will also) is Louise's lack of faith in herself and her abilities. She finds it easier to hold herself back than to test her limits. Some of this may be a result of the environment she is surrounded by, and some may just be natural, but either way, I felt like Louise did a spectacular job of standing up for herself in the end. If you are a fan of Harriet the Spy, this book will probably hold a high appeal. And if not, I still think you should give it a read--this is a great book!
Content Analysis:
Profanity/Language: 3 derogatory names.
Violence/Gore: A character is mentioned to have committed suicide, no details are given; a character is mentioned to have died in a climbing accident, with no descriptive scenes or details; a character is bullied briefly.
Sex/Nudity: Kissing is mentioned.
Mature Subject Matter:
Death of a parent, bullying, suicide, family crises.
Alcohol / Drug Use:
Adults drink.
Reviewed By Lydia