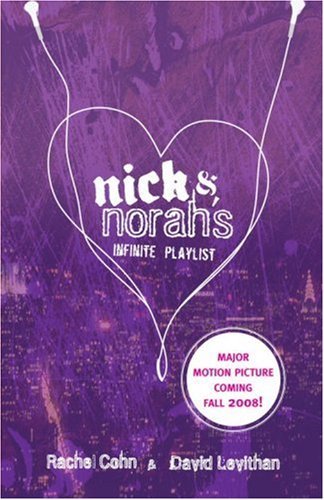 Publisher's Note:
NOW A MAJOR motion picture starring Michael Cera (Juno and Superbad) and Kat Dennings (The 40 Year-Old Virgin)! Nick and Norah's Infinite Playlist is a comedy about two teens thrust together for one hilarious, sleepless night of adventure in a world of mix tapes, late-night living, and, live, loud music. Nick frequents New York's indie rock scene nursing a broken heart and Norah is questioning all of her assumptions about the world. Though they have nothing in common except for their taste in music, their chance encounter leads to an all-night quest to find a legendary band's secret show and ends up becoming the first date that could change both their lives.

From YA fan-favorites Rachel Cohn and David Levithan comes the story of Nick and Norah. This movie tie-in edition also includes an 8-page photo insert from the film, as well as a map of Manhattan, detailing all of the sites Nick and Norah go to on their all-night date.
Nick and Norah's Infinite Playlist
by Rachel Cohn and David Levithan
Overall Review:
The first half of this book feels like hiking up a steep mountain wearing a 50-pound pack during a rock slide. I refer to the extreme amount of profanity, coupled with sexual references set to a backdrop of extremely loud music. Of course we can't hear the music, but believe me, it comes through.
Finally the story emerges from the nightclubs and the barrage of foul language. Nick and Norah become almost endearing as they take turns sharing their perspectives, revealing their insecurities and hopes, and moving into a relationship that seems like it has some potential. If only we could see them after the night of their first meeting, we might know.
There are definitely some redeeming qualities to the book. The characters are raw and unvarnished. They connect both mentally and physically (a little too much of the latter), and there's quite a bit of smart, dry humor as well. While others around them drink and smoke, they choose to abstain. The two authors do a wonderful job of blending the main character's stories together.
If you're not put off by the fluid sexuality of the New York club scene and graphic encounters between both hetero and homosexual couples, love alternative music, and don't mind a ton of profanity, this might be a sweet, enjoyable little story for you.
Content Analysis:
Profanity/Language: 8 religious exclamations; 40 mild obscenities; 5 religious profanities; 36 derogatory names; 34 scatological words; 33 anatomical terms; 1 offensive hand gesture; 262 f-word derivatives.
Violence/Gore: Characters shove each other (3 times).
Sex/Nudity: Pornography is mentioned twice; a character reminisces about a sexual encounter with minor detail (3 times); characters kiss passionately (8 times); characters flirt (three times); two characters grope each other under their clothing; a reference is made to whistling at a woman's body; characters sing about suggestive topics and several songs are referenced with crude or sexual names; crude jokes are made and referenced several times; vulgar graffiti is read; two characters engage in heavy petting underneath clothing with graphic detail; an underage character takes a pregnancy test; a character considers having sex; masturbation is referred to twice; a character performs descriptive sex acts on another character twice (once in an extended scene--7 pgs.); oral sex is referred to; orgasm is referred to; in an extended scene (2 pgs), two girls practice passionate kissing techniques together; sexual arousal is referred to multiple times.
Mature Subject Matter:
Homosexuality, cross dressing, teen partying and underage drinking, teenage sexual activity.
Alcohol / Drug Use:
Underage drinking, smoking, partying; drugs are referenced.
Reviewed By Leslie