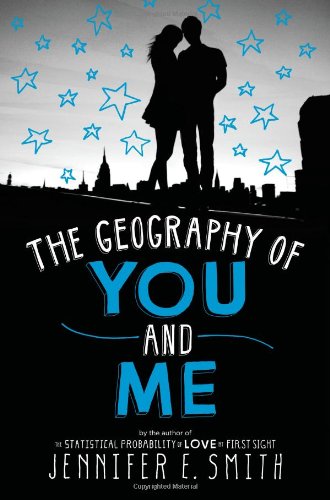 Publisher's Note:
Lucy lives on the twenty-fourth floor. Owen lives in the basement. It's fitting, then, that they meet in the middle -- stuck between two floors of a New York City apartment building, on an elevator rendered useless by a citywide blackout. After they're rescued, Lucy and Owen spend the night wandering the darkened streets and marveling at the rare appearance of stars above Manhattan. But once the power is back, so is reality. Lucy soon moves abroad with her parents, while Owen heads out west with his father.

The brief time they spend together leaves a mark. And as their lives take them to Edinburgh and to San Francisco, to Prague and to Portland, Lucy and Owen stay in touch through postcards, occasional e-mails, and phone calls. But can they -- despite the odds -- find a way to reunite?

Smartly observed and wonderfully romantic, Jennifer E. Smith's new novel shows that the center of the world isn't necessarily a place. Sometimes, it can be a person.
The Geography of You and Me
by Jennifer E. Smith
Overall Review:
Channeling the star-crossed love of Romeo and Juliet and the romance of An Affair to Remember, Jennifer E. Smith once again brings young adults a terribly romantic novel, The Geography of You and Me. Ms. Smith's modus operandi in her last three novels is to bring two young people together through crazy chance, circumstance, or mistake. There are differences in the plot set-up and timeline, but that idea is always the genesis of the story. It is hard to argue with the romance behind the random connection that brings two people together; it makes anything seem possible. Ms. Smith is good also at keeping the story from becoming sappy. As much as I enjoy this author's style and contribution to young adult romance, The Geography of You and Me was a victim to the initial set-up of this story--two people brought together, only to be swirled in different geographic directions. It is a dreamy concept that unfortunately put a drag on the momentum of the story. The separate characters' lives felt gray and just a tad depressing most of the time. However, if a reader doesn't mind wading through a little dreariness or has a preference for bitter-sweet/thwarted love, then The Geography of You and Me should fill the ticket.
Content Analysis:
Profanity/Language: 2 mild obscenities; 2 anatomical terms.
Violence/Gore: Report of death in accident; character says they have survived two muggings.
Sex/Nudity: Character reports making out, no details; characters kiss a few times, separate instances; characters embrace; character puts arm around another.
Mature Subject Matter:
Death of a parent, transient lifestyle, unemployment.
Alcohol / Drug Use:
Adult smokes; general reference to teenagers sneaking beer/whiskey; teenage character said she snuck champagne at a wedding; teenager said she had her first "parent-sanctioned" beer.
Reviewed By Cindy