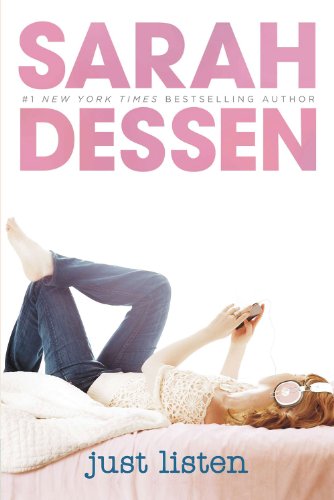 Publisher's Note:
To find the truth you've got to be willing to hear it.

When Annabel, the youngest of three beautiful sisters, has a bitter falling out with her best friend—the popular and exciting Sophie—she suddenly finds herself isolated and friendless. but then she meets Owen—a loner, passionate about music and his weekly radio show, and always determined to tell the truth. And when they develop a friendship, Annabel is not only introduced to new music but is encouraged to listen to her own inner voice. with owen's help, can Annabel find the courage to speak out about what exactly happened the night her friendship with Sophie came to a screeching halt?
Just Listen
by Sarah Dessen
Overall Review:
Sarah Dessen is one of today's most popular writers for teens, and it's easy to see why. She has a real grasp on the issues young people face, but she's not depressing, preachy or heavy handed. Just Listen is a compelling story in which the main character seems to be dealing with every single problem imaginable (except for poverty), and yet Dessen's deft treatment of the challenges doesn't make any of it come across as overkill.
Throughout the book, Dessen weaves in snippets of wisdom that are potentially very helpful to readers who could be struggling with just about anything. Her characters do this almost seamlessly, so that it's not totally obvious that the author is trying to work in a little therapy session--especially for a young reader who is making connections with the characters and looking for answers.
Dessen's treatment of very troubling issues like eating disorders and rape is masterfully done--descriptive enough without being sensational or creepy. She also makes it clear that it's always better to seek help rather than keep quiet when one has been hurt.
Finally, the characters themselves are likeable and believable, making this book hard to put down and hard to forget. I'll be looking for more Sarah Dessen books in the near future!
Content Analysis:
Profanity/Language: 37 religious exclamations; 6 mild obscenities; 1 religious profanity; 18 derogatory names; 18 scatological words; 5 anatomical terms; 3 f-word derivatives.
Violence/Gore: A character is alleged to have punched another character; a character pushes another character; a character punches another character; a character falls and breaks her arm; it is discovered that a character has raped or attempted rape on multiple underage victims, with a single incident being described in minor detail.
Sex/Nudity: A character is seen naked after bathing; two characters kiss briefly (4 times); two characters kiss passionately; a character is seen with his hand down a girl's shirt; underage characters are known to have had sex; underage characters are alleged to have had sex; it is discovered that a character has raped or attempted rape on multiple underage victims, with a single incident being described in minor detail; a female character sits on a male character's lap and kisses him on the cheek; characters flirt with each other.
Mature Subject Matter:
Bullying, divorce, eating disorders, depression, death of a family member, rape.
Alcohol / Drug Use:
Underage drinking, smoking, partying.
Reviewed By Leslie