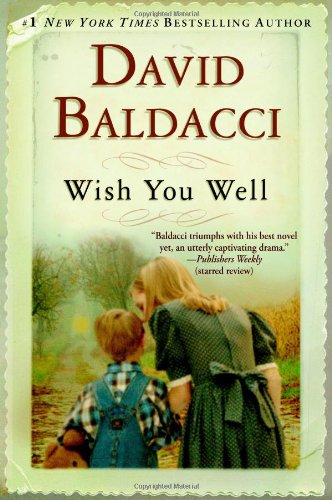 Publisher's Note:
Precocious 12-year-old Louisa Mae Cardinal lives in
the hectic New York City of 1940 with her family.
Then tragedy strikes--and Lou and her younger brother,
Oz, must go with their invalid mother to live on their
great-grandmother's farm in the Virginia mountains.
Suddenly Lou finds herself coming of age in a new
landscape, making her first true friend, and experiencing
adventures tragic, comic, and audacious. But the forces
of greed and justice are about to clash over her new
home . . . and as their struggle is played out in a crowded
Virginia courtroom, it will determine the future of two
children, an entire town, and the mountains they love.
Wish You Well
by David Baldacci
Overall Review:
Known for his intriguing political fiction, New York Time's bestselling author David Baldacci deviates slightly from his modern day suspense novels to bring you Wish You Well. Inspired by his maternal grandmother and mother's experiences living on a southwestern Virginian mountain top, Wish You Well plays homage to their native homland and weaves a rich tapestry of hardships and adventures that although fictional, would not be unfamilar to the matrons that first sparked the story.
I'm embarrassed to say that this is my first Baldaccii novel, but because I thoroughly enjoyed the book it will most certainly not be my last. I need to find out if all of his novels are literary masterpieces. Yes, I went there...I called it a masterpiece. Though it's a lofty call, I feel it's not a misrepresentation of the story that engaged me with such intensity. Mostly played out in the 1940's backwoods of Virginia, the story creates a lovely dynamic between the struggles of a family and the land they love so well. There is tenderness even in the toil of life and death situations, and even though there is a lot of high-stakes drama that takes course throughout the pages of the novel, the characters feel genuine and true and not overly dramatized. As with any good novel there is laughter as well as tears. Though the book deals with mature subject matter I feel it would be suitable for mature teens to venture into, that they may get an idea of the adversity and prejudice that took place in the 1940's. I also feel fans of Baldacci's will not be disappointed with his venturing into a more historical fiction base because he also served up a dose of legal drama to keep his loyal followers interested. A little bit of Little House on the Prairie, meets The Book Thief, meets John Grisham...what's not to enjoy?
Content Analysis:
Profanity/Language: 19 religious exclamations; 26 mild obscenities; 5 religious profanities; 4 derogatory names. (Note: The word "Hell-no" is used several times throughout the book, not as an obscenity but as a person's nick-name. These references are not included in the tally.)
Violence/Gore: Extended descriptive scene (about 2.5 pages) of an automobile accident, mention of death, broken bones, blood mentioned; mention of animal on the prowl hunting for food; character threatens to use physical force against another character while holding a gun in a threatening manner; character comments on how they would like another character to be killed; character tells a story of two characters possibly drowning; blood and afterbirth are mentioned when an animal gives birth; characters engage in a fist fight, injuries incurred and some blood mentioned; character verbally assaults another character; character briefly mentions story of a boy being run-over by a train; character butchers animal for eating, some blood mentioned; characters engage in a fist fight; characters use a dead animal to scare one another; father hits his son; a few mentions throughout the book of a character using physical force against his children and wife; characters are involved in an altercation, some physical violence is used; guardian threatens child with physical violence for unruly behavior; characters exchange several verbal threats throughout the book; character reveals how another character's parents died; second hand report of a character dying in childbirth, baby also dies after birth; mention of blood from animal birth; extended scene of characters helping pregnant character give birth, some blood mentioned; scene of one character dying and another being injured in an accident, some blood mentioned; indication that some animals died in a fire; extended frightening scene (about 1 page) of a character being preyed upon by wild animals; second hand report of fight; character reports how another character incurred injuries throughout the years; extended scene (several pages) characters re-examine how another character was killed, mention of mutilated body.
Sex/Nudity: Non-sexual reference to nudity when two children are said to be naked.
Mature Subject Matter:
Death of loved one(s), parent in a vegetative state, physical abuse, mental/emotional trauma, racial prejudice, socioeconomic issues.
Alcohol / Drug Use:
Underage character smokes; a few mentions throughout the book of brewing and selling whiskey illegally; a few mentions of tobacco/cigarettes.
Reviewed By MaryLou