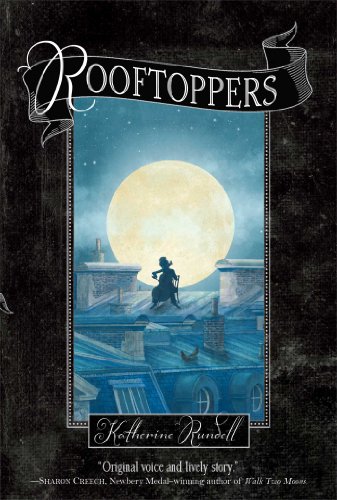 Publisher's Note:
Embrace possibility in this luminous novel about a girl in search of her past who discovers a secret rooftop world in Paris.
Everyone thinks that Sophie is an orphan. True, there were no other recorded female survivors from the shipwreck that left baby Sophie floating in the English Channel in a cello case, but Sophie remembers seeing her mother wave for help. Her guardian tells her it is almost impossible that her mother is still alive—but "almost impossible" means "still possible." And you should never ignore a possible.

So when the Welfare Agency writes to her guardian, threatening to send Sophie to an orphanage, they takes matters into their own hands and flee to Paris to look for Sophie's mother, starting with the only clue they have—the address of the cello maker.

Evading the French authorities, she meets Matteo and his network of rooftoppers—urchins who live in the hidden spaces above the city. Together they scour the city in a search for Sophie's mother—but can they find her before Sophie is caught and sent back to London? Or, more importantly, before she loses hope?
Rooftoppers
by Katherine Rundell
Overall Review:
Exquisite writing and voicing by author Katherine Rundell is what makes Rooftoppers truly soar. The writing makes the reader drink in the night Paris air and feel the slate roofs underfoot. The question about this novel is as follows: "Is this the type of children's book that adults love and think children should love? Or, is it a book that children will actually love?" Frankly, children aren't literary critics and don't particularly care how good or bad (look at a few of those New York Times Best Seller books) the writing is. Rooftoppers is a straightforward story without magical elements, mythical creatures, and modern dialogue. Yet it does have this adventurous feel with a tenacious heroine possessing true grit, an unconventional guardian, and a mysterious, tough, street-wise (or should we say roof-wise) young man. Beautiful illustrations also compliment the opening of each chapter. At times, it brought The Thief Lord by Cornelia Funke to mind. There is so much here to love and I hope the answer to the question is, "Yes, there are children who still love this type of book."
Content Analysis:
Profanity/Language: 10 religious exclamations; 5 mild obscenities.
Violence/Gore: General report of deaths in a disaster; character scrapes knee, bleeds; animal is shot for eating; generic reference to past injuries and evidence with scars; report that someone cut someone else; report of a past fight with severe injuries such as loss of fingertip, loss of hand, severe cut in stomach; characters sustain scrapes and cuts (with mention of blood) while climbing; extend fight scene (~2 pages) between two gangs of children with some description involving knives/pipes/sharp bones/chimney pots, kicking in the crotch, hitting, etc. resulting in injuries and unconsciousness.
Sex/Nudity: Character undresses to bathe.
Mature Subject Matter:
Homelessness, poverty, orphans.
Alcohol / Drug Use:
Adult drinks whiskey; child drinks whiskey once.
Reviewed By Cindy