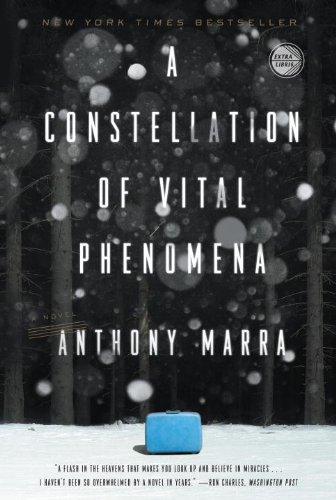 Publisher's Note:
New York Times Notable Book of the Year * Washington Post Top Ten Book of the Year

In a small rural village in Chechnya, eight-year-old Havaa watches from the woods as Russian soldiers abduct her father in the middle of the night and then set fire to her home. When their lifelong neighbor Akhmed finds Havaa hiding in the forest with a strange blue suitcase, he makes a decision that will forever change their lives. He will seek refuge at the abandoned hospital where the sole remaining doctor, Sonja Rabina, treats the wounded.

For Sonja, the arrival of Akhmed and Havaa is an unwelcome surprise. Weary and overburdened, she has no desire to take on additional risk and responsibility. But over the course of five extraordinary days, Sonja's world will shift on its axis and reveal the intricate pattern of connections that weaves together the pasts of these three unlikely companions and unexpectedly decides their fate. A story of the transcendent power of love in wartime, A Constellation of Vital Phenomena is a work of sweeping breadth, profound compassion, and lasting significance.

Now with Extra Libris material, including a reader's guide and bonus content from the author.
A Constellation of Vital Phenomena
by Anthony Marra
Overall Review:
I waited a long time to pick up and read this book. (Actually, I picked up my Kindle and read this book on there, so maybe that has something to do with it.) But once I started reading it, I could hardly put it down. I'm not sure what it was, but the combination of the characters being relate-able and the storyline moving at a fast clip had to help for sure.
Despite the fact that this book had several characteristics that I usually don't like in a book (the timeline jumped back and forth and parts of it are set in the distant past), I was hooked from pretty much the beginning. The updated cover is beautiful too, and that always makes me happy as a reader. There were a few places where I became a little lost, but I managed to find my way back without too much trouble. I think men and women alike will be charmed by this debut novel--which is a feat in itself. This is an adult book, but it might appeal to a mature young adult who is interested. This novel is wonderful, inside and out!
Content Analysis:
Profanity/Language: 2 derogatory names; 3 anatomical terms; 18 F-Word derivatives.
Violence/Gore: Some brief description of inhumane treatment of citizens by government officials is mentioned; war is mentioned several times with some brief descriptions of violence; a dead animal is briefly described; non-life threatening injuries are mentioned twice, with no explicit detail; a man is killed with some very brief description
Sex/Nudity: Adultery is mentioned with no detail; porn is mentioned with no detail; sex is referred to several times; nudity is mentioned several times in a clinical, non-sexual way
Mature Subject Matter:
Death, death of a parent, war, abandonment, violence.
Alcohol / Drug Use:
Adults drink; heroin use is mentioned; adults smoke; drug use is mentioned briefly.
Reviewed By Lydia