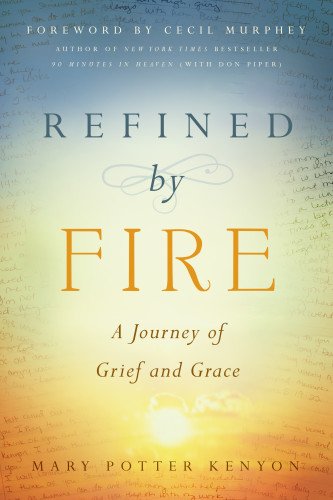 Publisher's Note:
"Where is the handbook for widows?" Mary Kenyon lamented as she planned a funeral for the beloved husband whose triumph over cancer she chronicled in Chemo-Therapist: How Cancer Cured a Marriage. During the ensuing weeks, as she attempted to make sense of his untimely death, she filled two journals, blogged, and read the inspirational writings of others who had gone down the road of grief before her--authors like C.S. Lewis and Madeleine L'Engle. She eventually found herself studying grief and bereavement in her quest to unearth answers to alleviating the pain associated with profound loss. In the process, she discovered a strength and emotional reserve she didn't know she had, along with an evolving faith that helped her face the impending loss of an eight-year-old grandson.
"In the midst of the darkness of loss, I found light. Admittedly, in those first weeks, it might have been but a single small spark I sensed deep inside of me, but that spark guided me in the twisted, dark journey of grief. As I stumbled over the roots of hopelessness and despair, that light grew to illuminate my path, a path I sometimes felt very alone on. At some point in the journey I'd turned around, and there was God.
That is grace."
This book was sent to Compass Book Ratings for review by Familius
Refined By Fire: A Journey of Grief and Grace
by Mary Potter Kenyon
Overall Review:
I have read and reviewed all three of Mary Potter Kenyon's books, and they keep getting better as she goes! Even if she is writing about couponing, she manages to tie in parts of her family life that are heartfelt and meaningful. Now, in her newest book, Refined By Fire, she has written a book that is raw and beautiful, even when some of the subject matter is not. How a woman can lose her husband and grandchild, and then turn around and write about it for the public to read is amazing to me. In this book, Mary has included snippets of her blog posts that she wrote along with chapters that reveal her tender and most heartfelt emotions during a time of tragedy and pain.
I am not a widow, and I hope never to be, but if I were, or if I had recently had a spouse or another loved one pass, I would hope that someone would direct my attention to this book. Even in a time when everything seemed like it was going wrong for Mary, she looked at it from a spiritual perspective. This gave me a feeling of hope, as a reader, and it helped me look at my life in a different perspective. I'm pretty sure I am not the only that will have finished this book with a few tears streaming down my face.
Review of Advance Reader Copy
Reviewer is related to the author by marriage.

Content Analysis:
Profanity/Language: None
Violence/Gore: None
Sex/Nudity: Adults kiss several times; sex is referred to several times.
Mature Subject Matter:
Cancer, death, personal crises.
Alcohol / Drug Use:
Adults drink.
Reviewed By Lydia