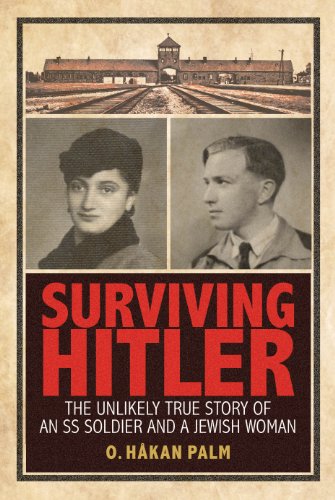 Publisher's Note:
Gustav Palm kept his secret for more than forty years. He had been a young man when Hitler invaded his native Norway. After being forced to guard a Nazi prison camp, however, Gustav took his only option for escape: he volunteered for the Waffen-SS to fight at the front. Agnes Erdös grew up in privilege and prosperity as a child in Hungary. She and her parents were practicing Roman Catholics, but they were ethnic Jews, and after the Nazis invaded her country, Agnes and her parents were sent to the death camp of Auschwitz-Birkenau. Miraculously, both Agnes and Gustav survived. And after the war, they found each other. Told in their own words, Surviving Hitler is the story of two indomitable spirits who built on their life-altering experiences to overcome the past, help each other heal, and embrace a common faith in God that led them to The Church of Jesus Christ of Latter-day Saints.
This book was sent to Compass Book Ratings for review by Deseret Book
Surviving Hitler
by O. Håkan Palm
Overall Review:
Incredible! Simply put, the lives of Gustav and Agnes Erdös Palm are amazing. Surviving Hitler is primarily a translation of the words of the Palms. Their son O. Håkan Palm is the author of the book. Reading this account gives greater insights into the minds of those on both sides of the Holocaust. It also shows the great depth of character possessed by the Palms. What courage it must have taken for them to relive those painful war years and share it with the world. Thank you.
The text is organized chronologically and switches back and forth between Gustav and Agnes. Sprinkled throughout are historical facts provided from other sources. These tidbits add interesting details. The book also places pictures beside the text it references. Great job with the formatting decisions.
The Palms joined The Church of Jesus Christ of Latter-Day Saints after the war. One of the ending chapters discusses this membership. However, those not of that faith should know the book is largely focused on the events taking place during World War II. The final epilogue is written by the author O. Håkan Palm and he shares some observations about the effects the war had on his parents and their lives.
Anyone interested in learning more about the personal experiences of those involved in the European portion of World War II should read this book. It is insightful, interesting, and intense.
Content Analysis:
Profanity/Language: None
Violence/Gore: Wartime battle scenes including bombings, tanks and various types of guns; many detailed descriptions of injuries with and without blood, some fatal; reports of property destroyed by bombs or fires; characters commit suicide, minimal details; references to concentration camps and prisoners being gassed and shot; many references to corpses some in a state of decomposition; a horse is shot for food; many scenes of soldiers shooting others; report of a person being hung; people grab, hit and shove others.
Sex/Nudity: Characters are forced to disrobe in front of others for bathing, not detailed; corpses described as naked; woman refers to her breasts; non-married characters hold hands, kiss and embrace.
Mature Subject Matter:
Death of family and friends, divorce, war, Holocaust, suicide.
Alcohol / Drug Use:
Adults drink wine; adults are forced to consume narcotic beverages; adults become intoxicated.
Reviewed By Susan