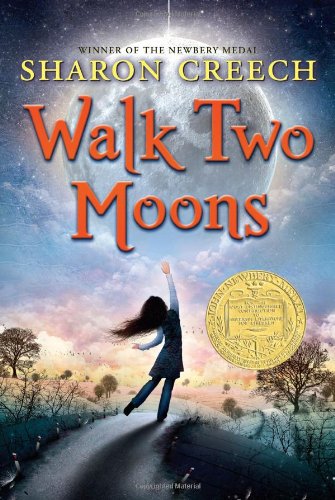 Publisher's Note:
In her own singularly beautiful style, Newbery Medal winner Sharon Creech intricately weaves together two tales, one funny, one bittersweet, to create a heartwarming, compelling, and utterly moving story of love, loss, and the complexity of human emotion.
Thirteen-year-old Salamanca Tree Hiddle, proud of her country roots and the "Indian-ness in her blood," travels from Ohio to Idaho with her eccentric grandparents. Along the way, she tells them of the story of Phoebe Winterbottom, who received mysterious messages, who met a "potential lunatic," and whose mother disappeared.
As Sal entertains her grandparents with Phoebe's outrageous story, her own story begins to unfold--the story of a thirteen-year-old girl whose only wish is to be reunited with her missing mother.
Supports the Common Core State Standards
Walk Two Moons
by Sharon Creech
Overall Review:
Reviewer disclaimer: I rarely, if ever, read books more than once. Even if it is an absolutely fantastic book that I fall in love with, I will almost never pick it up again. Why? Because I feel the first time is the best time and if I read it again I will never feel again what I felt when I first read it. The anticipation of what's going to happen next, the thrill of experiencing what your character feels, and the whole gratification of the newness and excitement...you can't recreate your first time...or can you?
I was given the challenge to reread a favorite childhood/ middle school novel and see if the book still holds up. Is it still relevant to young readers today? Is it just a young person's book or can adults enjoy it too? When I was issued this challenge I knew exactly what two books I'd be choosing, with one of them being Walk Two Moons, by Sharon Creech. After reading this book in 6th grade I become a huge fan of Creech and felt my local library did the award winning author (so many awards!) an injustice by carrying a very limited selection of her books. How could I sustain myself on their restricted collection? Dear Sharon, please don't be offended, even though I grew older and my tastes evolved, you and your books were always in the back of my mind. Fast forward, present day. After the re-read, did the book hold up, was it everything I thought it was the first time I read it more than a decade ago? The results are in, and it's a resounding YES on so many levels! I'm so glad I didn't pick the book up again until now because I was truly able to recreate my first time. I knew I had liked the book, but I couldn't remember the plot or specific details, meaning no spoilers, thus creating a fun inner dialogue with my younger self.
Told from the point of view of thirteen-year old Salamanca Tree Hiddle (C'mon, the name alone urges you to read the book to satisfy your curiosity about the namesake.), Walk Two Moons joins you, Sal, and her eccentric grandparents together on a quest of discovery. Creech does a phenomenal job capturing the essence of this young girl's voice and taking you on a journey you and Salamanca will never forget. (Technically, I did forget, but just the details, not the emotional core.) I also forgot that even though I liked Sal, I liked her kooky grandparents, neighbors, and friends even more. They bring so much flavor to the book. Speaking of flavor, have you ever kissed a tree?(Semi-joking) Now you really have to read the book to find out about that bizarre question! All kidding aside, this book deals with some intense issues, but Creech is able to reach readers in such a way that it does not feel too graphic for even a third grader to read about, or too simplified that a mature reader cannot appreciate the complexity. A perfect summertime read for the the young, and the young at heart. Walk Two Moons--read it, love it, and save it for years later to re-read and love all over again.
Content Analysis:
Profanity/Language: 7 religious exclamations; 6 mild obscenities.
Violence/Gore: Mention of characters being involved in a "robbery", character pulled over for erratic driving; character is bit by a venomous animal, wound needs to be cut into to withdraw the poison, some blood mentioned; character gives a brief report on how three family members passed away; twice a character draws a disturbing scene involving the deaths of other characters; character has an irrational fear that herself and her friend may be stabbed and bleed to death; character speculates that another character murdered their spouse and did something grotesque with the body; several mentions throughout the book of the words "lunatic", "chopped up body", "murderer", and "kidnap"; extended scene (about 1 page) character is involved in an accident resulting in a broken bone; extended scene(about 2 pages) report of pregnant character having a complication, stillborn birth, some blood mentioned; operation mentioned, no medical details given; character wishes to strangle and bash the head in of another character; character tells another character how they'd like to take violent action towards them; character reports how their family members were involved in an accident resulting in the loss of life of one and blindness of the other; underage character is involved in illegal behavior; vehicular accident reported, mention of mass death, no blood mentioned.
Sex/Nudity: Few mentions of underage characters having a desire to kiss, and failed kissing attempts; brief reference to underage characters holding hands and kissing; two mentions of adult characters kissing; the word "marriage bed" is used; characters remove outer clothing and swim in their underwear; character is able to see up another character's dress; unmarried character gives up child for adoption.
Mature Subject Matter:
Abandonment, death of loved one(s).
Alcohol / Drug Use:
Character smokes pipe; characters smoke peace pipe and allow underage character to participate; mention of whiskey.
Reviewed By MaryLou