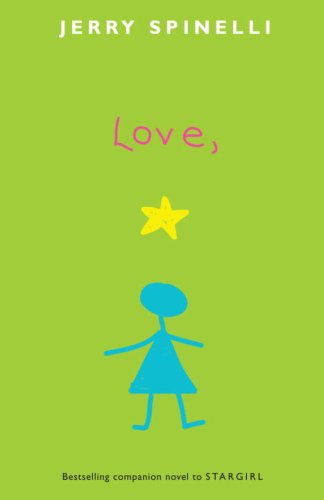 Publisher's Note:
LOVE, STARGIRL picks up a year after Stargirl ends and reveals the new life of the beloved character who moved away so suddenly at the end of Stargirl. The novel takes the form of "the world's longest letter," in diary form, going from date to date through a little more than a year's time. In her writing, Stargirl mixes memories of her bittersweet time in Mica, Arizona, with involvements with new people in her life.

In Love, Stargirl, we hear the voice of Stargirl herself as she reflects on time, life, Leo, and - of course - love.
Love, Stargirl
by Jerry Spinelli
Overall Review:
Magic. That's what this book is full of: Magic. How so? you might ask. There were no magic spells or magicians or incantations... No, there weren't, but there was magic nonetheless. There is magic in seeing the small and seemingly insignificant things going on around you. There is magic in taking joy in a moment or celebrating a day. And what is more magical than watching a transformation? A person becoming or overcoming? How about befriending a 6 year old? Did you know 6 year olds are magic? They are. An incredible magical journey to a Winter Solstice is made--where the magic brings people together who love each other because first they were loved. In reference to the first book titled "Stargirl", written from the point of view of someone else, I heard tell of the disappointment of humanizing Stargirl in this volume. Humanizing? Where? I beg to differ. What human can make that sort of magic happen? There are some humans out there like her, admittedly, but they are few and far between. We see them and always wonder, "How do they do it?" How? Beautifully and poetically written.
Content Analysis:
A wonderfully written, squeaky clean book. The only violent part is when a character gets angry and beats someone up. It's not graphically written, but another character sees and is very shaken.
There are less than a handful of swear words—so unusual when writing about teenagers!
There is no sexual content (two characters kiss, but there's nothing sensual about it).
Mature Subject Matter:
I considered this to have a mild mature theme only because of the thought provoking nature of the novel.
Alcohol / Drug Use:
***
Reviewed By Emily