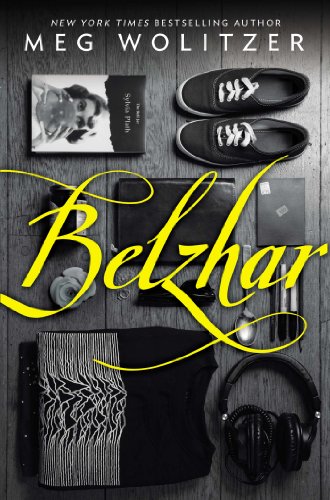 Publisher's Note:
If life were fair, Jam Gallahue would still be at home in New Jersey with her sweet British boyfriend, Reeve Maxfield. She'd be watching old comedy sketches with him. She'd be kissing him in the library stacks.
She certainly wouldn't be at The Wooden Barn, a therapeutic boarding school in rural Vermont, living with a weird roommate, and signed up for an exclusive, mysterious class called Special Topics in English.
But life isn't fair, and Reeve Maxfield is dead.

Until a journal-writing assignment leads Jam to Belzhar, where the untainted past is restored, and Jam can feel Reeve's arms around her once again. But there are hidden truths on Jam's path to reclaim her loss.

From New York Times bestselling author Meg Wolitzer comes a breathtaking and surprising story about first love, deep sorrow, and the power of acceptance.
Belzhar
by Meg Wolitzer
Overall Review:
When I saw the cover of this book, I knew it looked like something I would enjoy reading. When I saw who wrote this book, I was almost certain I would be hooked within the first few pages. And once I read the description, I wanted to read Belzhar so darn much that I snagged an advanced copy and gobbled it up. Now I want more, but alas, there is no more to this story.
I have become a bit obsessed within the past several years with books that are about troubled teens--teens who are struggling with thoughts of suicide, or teens with addictions of any kind. This book was one that basically fit that mold to a "T". The title is actually pronounced sort of like "bell jar". What does that term bring to mind? For me, "bell jar" makes me think of Sylvia Plath, and that is exactly what this book is supposed to remind the reader of. In a weird twisting and turning of events, a group of adolescents are all at a boarding school for troubled teens, and they all have something in common, but they don't know it yet. I found myself on the edge of my seat, hardly able to wait to read what would happen next. This book is, in a word, enthralling. I could hardly put it down. Now I can't wait to read more from Meg!
Review of Advance Reader Copy
Content Analysis:
Profanity/Language: 1 religious exclamation; 2 mild obscenities; 5 derogatory names; 19 scatological words; 5 anatomical terms; 13 F-Word derivatives.
Violence/Gore: An accident is briefly mentioned, with one casualty; a young child goes missing and kidnapping is suspected; teens are mentioned to shoplift; a character is mentioned to have committed suicide, with no detail given; a character is mentioned to have died in an accident; a character hits head and blood is briefly mentioned; a fire is briefly mentioned, with a few animals perishing.
Sex/Nudity: Teens are mentioned to be sexually active; minors kiss several times; sex is referred to multiple times; teens talk about "hooking up"; porn watching is mentioned with one briefly descriptive scene.
Mature Subject Matter:
Personal crises, death, illegal activities, suicide, social conflicts.
Alcohol / Drug Use:
Teens drink; adults drink; minors smoking weed is mentioned; minors smoke; minors mentioned to get high.
Reviewed By Lydia