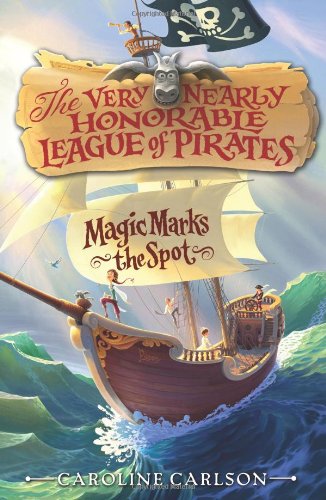 Publisher's Note:
Pirates! Magic! Treasure! A gargoyle? Caroline Carlson's hilarious tween novel The Very Nearly Honorable League of Pirates #1: Magic Marks the Spot is perfect for fans of Lemony Snicket's Series of Unfortunate Events and Trenton Lee Stewart's Mysterious Benedict Society.
Hilary Westfield has always dreamed of being a pirate. She can tread water for thirty-seven minutes. She can tie a knot faster than a fleet of sailors, and she already owns a rather pointy sword.
There's only one problem: The Very Nearly Honorable League of Pirates refuses to let any girl join their ranks of scourges and scallywags.
But Hilary is not the kind of girl to take no for answer. To escape a life of petticoats and politeness at her stuffy finishing school, Hilary sets out in search of her own seaworthy adventure, where she gets swept up in a madcap quest involving a map without an X, a magical treasure that likely doesn't exist, a talking gargoyle, a crew of misfit scallywags, and the most treacherous—and unexpected—villain on the High Seas.
Written with uproarious wit and an inviting storyteller tone, the first book in Caroline Carlson's quirky seafaring series is a piratical tale like no other!
The Very Nearly Honorable League of Pirates: Magic Marks the Spot
by Caroline Carlson
Overall Review:
Charming and witty, The Very Nearly Honorable League of Pirates: Magic Marks the Spot by Caroline Carlson is mostly an adventure with a light touch of magic. The narrative follows a plucky Hilary Westfield who is not interested one bit in finishing school, but is instead quite determined to be a pirate--despite some formidable obstacles. The real gems in this book are the letters, notices, newspaper clippings, and such that are interspersed among the story. Oh so clever, they will have the reader smiling at the dry and tongue-in-cheek humor. With a solid cast of eclectic characters, this book should appeal to a wide-range of young readers. Fans of The Hero's Guide to the Kingdom would also probably enjoy this book as it shares some comic elements and tone and would also be a fun read aloud. Magic Marks the Spot has a self-contained plot, but luckily for readers, it is the first in a series.
Content Analysis:
Profanity/Language: None
Violence/Gore: General references to pirate activities such as walking the plank, looting, etc.; character falls and bumps head; character hit in stomach by object; report/reference of a person falling to their death; verbal threat to tie up a character; report that someone was hit in head with a vase; character pushed and knocked down; battle with sword fighting, a few kicks, with character rendered unconscious (non-detailed); shooting of cannonballs; sword fight (non-detailed); characters scuffle.
Sex/Nudity: None
Mature Subject Matter:
Bullying, social class conflict/tension.
Alcohol / Drug Use:
Reference to grog and some minor grog-swilling; a young character (age 12) takes a taste of grog.
Reviewed By Cindy