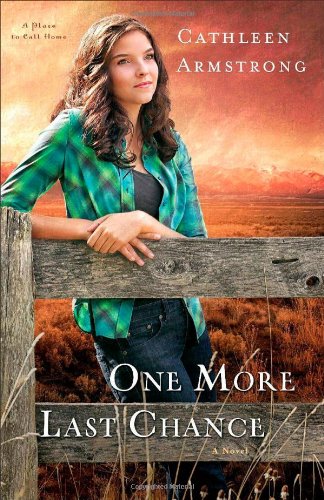 Publisher's Note:
Sarah Cooley has come home to Last Chance, New Mexico, for one reason--because it doesn't change. After an engagement gone bad with a man who wanted to change everything about her, Sarah is more than ready for the town whose motto may as well be, "If it ain't broke, don't fix it."

Chris Reed, on the other hand, wants nothing more than to spark some change in the little town. As the new owner of the Dip 'n' Dine, he's shaking things up to draw folks from all over the Southwest into his restaurant.

As it turns out, the winds of change are blowing into Last Chance--just not in the ways that Sarah or Chris might expect.

With the same evocative writing and fascinating characters that won fans for her debut novel, Cathleen Armstrong invites readers back to Last Chance for a soul-searching, romantic story of two people navigating the twists and turns of small-town life.
This book was sent to Compass Book Ratings for review by Revell
One More Last Chance
by Cathleen Armstrong
Overall Review:
One More Last Chance by Cathleen Armstrong is the second in the A Place to Call Home series. There is no other way to say this, but the second book is far more believable than the first. It is interesting that three of the main characters from the previous book are barely mentioned in the second. That was a good move to add freshness to the book. This is also the reason it does not seem an absolute must for readers to pick up the first book and read it first, unless you are curious about the back stories.
This was an enjoyable read where people in a small town unite and support one another. Readers looking for a feel-good-type of book with some light romance and quirky characters will enjoy this novel. There were not any intense dramas or deep mysteries to solve. The book offers a chance for people to enjoy hearing about the success of average people who have realistic challenges. (A few recipes included at the end, as some of the foods described sounded pretty tasty, would have been a welcome addition.) It should also be mentioned that a third book is in the works and if it follows the pattern of One More Last Chance, it will be a pleasure to read.
Content Analysis:
Profanity/Language: None
Violence/Gore: Character reports wanting to kill another; person imagines winning a fight with another person.
Sex/Nudity: Non-married characters embrace, hold hands and kiss.
Mature Subject Matter:
Teen pregnancy.
Alcohol / Drug Use:
Adult wishes an eatery served beer.
Reviewed By Susan