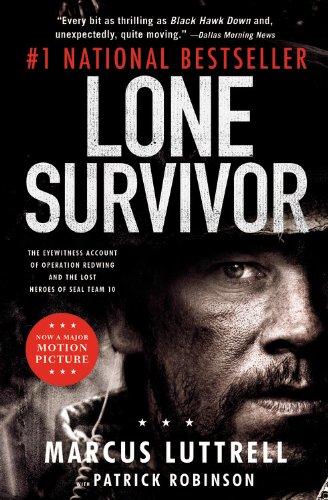 Publisher's Note:
Four US Navy SEALS departed one clear night in early July 2005 for the mountainous Afghanistan-Pakistan border for a reconnaissance mission. Their task was to document the activity of an al Qaeda leader rumored to be very close to Bin Laden with a small army in a Taliban stronghold. Five days later, only one of those Navy SEALS made it out alive.

This is the story of the only survivor of Operation Redwing, SEAL fire team leader Marcus Luttrell, and the extraordinary firefight that led to the largest loss of life in American Navy SEAL history. His squadmates fought valiantly beside him until he was the only one left alive, blasted by an RPG into a place where his pursuers could not find him. Over the next four days, terribly injured and presumed dead, Luttrell crawled for miles through the mountains and was taken in by sympathetic villagers who risked their lives to keep him safe from surrounding Taliban warriors.

A born and raised Texan, Marcus Luttrell takes us from the rigors of SEAL training, where he and his fellow SEALs discovered what it took to join the most elite of the American special forces, to a fight in the desolate hills of Afghanistan for which they never could have been prepared. His account of his squadmates' heroism and mutual support renders an experience that is both heartrending and life-affirming. In this rich chronicle of courage and sacrifice, honor and patriotism, Marcus Luttrell delivers a powerful narrative of modern war.
Lone Survivor: The Eyewitness Account of Operation Redwing and the Lost Heroes of SEAL Team 10
by Marcus Luttrell & Patrick Robinson
Overall Review:
Many times those who go to war and experience its horror are reluctant to talk about it. They have seen the terror and destruction and choose not to share it. Lone Survivor is a first person account of war and gives the reader a small glimpse into what it means to fight and sacrifice for your country.
Essentially broken into three parts (training, operation Redwing, rescue) the author gives the reader a great, detailed account into each aspect of the book. Told in a relaxed style, the reader gets the feeling that you are just sitting around the kitchen table listening to a buddy tell his story. Details about what it takes to be a SEAL are interesting and informative. The description of Operation Redwing--its acts of heroism but its unfortunate causalities--are both thrilling and heart-rending. The most amazing part of the book may be the end. Those who risked their own personal safety and the safety of their village for a lone soldier lost in a strange land is quite uplifting.
There are some personal political statements that may be off-putting to some and the language is rough (it is told by a sailor after all), but Lone Survivor is worth reading. I highly recommend it.
Content Analysis:
Profanity/Language: 34 Religious exclamations; 59 mild obscenities; 22 religious profanities; 28 derogatory names; 18 scatological words; 22 F-word derivatives.
Violence/Gore: Description of SEAL training includes hand to hand fighting, details of injuries sustained, physical/mental challenges, and the details on tactics and methods of Special Forces unit. Short personal accounts of smaller operations as well as second hand accounts of war time operations in Iraq; includes sniper attacks, house to house searches, road side bombs, suicide bombers and some interrogations. Chapter 6 is the beginning of the operation that is the main subject of the book and for the next 127 pages there is a detailed account of a non-stop fire fight. Individuals are killed and wounded with automatic weapons and rocket propelled grenades; some injures and/or deaths are detailed and gory; second hand account of the soldiers killed when their helicopter is shot down, detailed and gory; details of an airstrike that presumably kills dozens; detailed accounts of sniper kills - sometimes gory; individual is beaten and interrogated.
Sex/Nudity: Few romantic references about girlfriends and family.
Mature Subject Matter:
War, terrorism, torture, suicide bombers.
Alcohol / Drug Use:
Use of medicinal opiates; mention of adults drinking beer.
Reviewed By Matthew