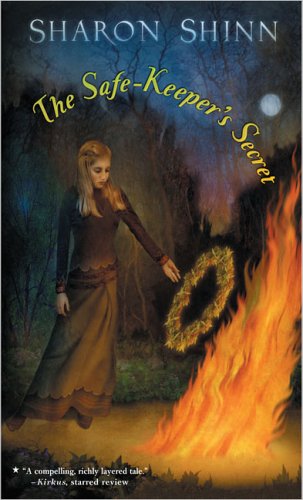 Publisher's Note:
"The most promising and original writer of fantasy to come along since Robin McKinley."—Peter S. Beagle, best-selling author of The Last Unicorm

Damiana is safe-keeper in the small village of Tambleham. Neighbors and strangers alike come one by one, in secret, to tell her things they dare not share with anyone else, knowing that Damiana will keep then to herself. One late night, a mysterious visitor from the city arrives with an unusual secret for the Safe-Keeper—a newborn baby. Damiana, who is expecting her own child, agrees to take the foundling. She names him Reed and raises him side by side with her daughter, Fiona. Ad the years pass and the two children grow into teenagers, they must come to terms with who they are—and who they may be.
The Safe-Keeper's Secret
by Sharon Shinn
Overall Review:
Sometimes Sharon Shinn takes a bit of time to set up her stories, but The Safe-Keeper's Secret has you enveloped in her poetic writing as immediately as the beautiful story begins. Truths, secrets and dreams are intertwined throughout the tale--some are welcome while others are not. The secrets begin when a child is brought to a secret keeper who has just given birth to a child of her own and the father of the surprise child is the first of many. Raised as brother and sister, these two children, Reed and Fiona, become the best of friends and are surrounded by many who shower them with love. Surprises are peppered here and there and really keep things interesting. The characters are brought to life and you feel as though you know them well. Shinn wraps everything and ties it with a perfect bow in the end. I loved this as will anyone who appreciates Shinn's work or a story of love, life and surprises.
Content Analysis:
Profanity/Language: One mild obscenity; 12 derogatory names (children referred to being illegitimate).
Violence/Gore: Several (13) brief incidents including character receives non-life threatening injuries during a fall; several second hand reports of babies dying at birth or still-born; second hand report of character's children and spouses dying; mention of children getting abused by parent; second hand reports of murder; adult character dies from illness; character throws and breaks mug when angry; characters' parent dies.
Sex/Nudity: Several (11) brief incidents including touching arm; talking about kissing; flirting; innuendo; children born to unmarried women; character is told her spouse is living with someone else (when thought dead); sexual activity implied when character asks for contraception; second hand report of incest; boy draws crude pictures of nude women.
Mature Subject Matter:
Murder, death of family members, child abuse.
Alcohol / Drug Use:
Mention of still; house smells of alcohol and tobacco; children and adults drinking alcohol during dinner; adults drinking wine while socializing; adult characters get drunk at bar.
Reviewed By Jenny