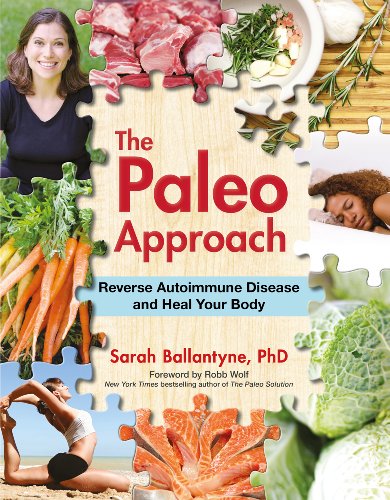 Publisher's Note:
An estimated 50 million Americans suffer from some form of autoimmune disease. If you're among them, you may know all too well how little modern medicine can do to alleviate your condition. But that's no reason to give up hope. In this groundbreaking book, Sarah D. Ballantyne, Ph.D., draws upon current medical research and her own battle with an autoimmune disorder to show you how you can become completely symptom-free—the natural way.

The Paleo Approach is the first book ever to explain how to adapt the Paleo diet and lifestyle to bring about a full recovery. Read it to learn why foods marketed as "healthy"—such as whole grains, soy, and low-fat dairy—can contribute to the development of autoimmune conditions. Discover what you can eat to calm your immune system, reduce inflammation, and help your body heal itself. Find out which simple lifestyle changes—along with changes in diet—will make the biggest difference for your health.

There's no need to worry that "going Paleo" will break the bank or require too much time in the kitchen preparing special foods. In The Paleo Approach, Dr. Ballantyne provides expert tips on how to make the switch easily and economically. Complete food lists with strategies for the day-to-day—how stay within your food budget, where to shop for what you need, how to make the most out of your time in the kitchen, and how to eat out—take all the guesswork out of going Paleo. Simple strategies for lifestyle adjustments, including small steps that can make a huge difference, guide you through the most important changes to support healing.

Do you have a complicated condition that requires medical intervention, medication, or supplements? Dr. Ballantyne also walks you through the most useful medical tests, treatments, and supplements (as well as the most counterproductive ones) to help you open a dialogue with your physician.

Features such as these make The Paleo Approach the ultimate resource for anyone suffering from an autoimmune disease. Why suffer a moment longer? Reclaim your health with The Paleo Approach!
The Paleo Approach: Reverse Autoimmune Disease and Heal Your Body
by Sarah Ballantyne
Overall Review:
Before reading this book, I kept hearing all of these foreign (to me) terms, or "buzzwords": Paleo diet, leaky gut, autoimmune disease. What did they all mean? Who did they apply to? I wasn't really sure. I have never really connected food to how I feel. If I have an ache or a pain, it isn't because I ate something that didn't agree with me--or so I think. Perhaps food does affect me in ways I don't yet detect. This book is a good first stepping stone in solving the mysteries behind why we feel the way we do--at least for some people. Personally, I don't think I have any weird allergies, or serious aversion to foods. But for some people with autoimmune diseases, food can literally be the death of them--poison.
I enjoyed reading this book, though at times the terms and information were way over my head. I skimmed those parts just a bit because the scientific parts became a little overwhelming. I picked up the general idea though, and moved on. I think this book can be a wonderful resource for anyone who is dealing with autoimmune issues, or simply if you want to eat a more "whole food" diet. Don't be deterred by the first few chapters that throw a lot of scientific facts at the reader. It gets better and is very fascinating to learn how our body can take what we think of as fuel, and turn it against us to break us down and actually make us sick.
Review of Advance Reader Copy
Content Analysis:
Profanity/Language: None
Violence/Gore: None
Sex/Nudity: None
Mature Subject Matter:
Medical issues and effects.
Alcohol / Drug Use:
None
Reviewed By Lydia