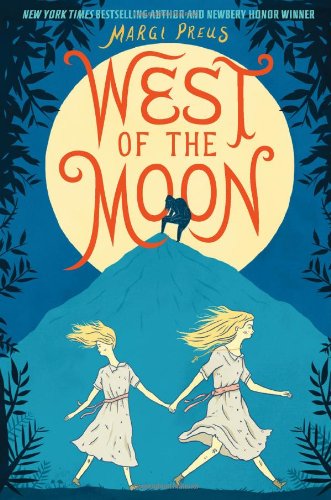 Publisher's Note:
In West of the Moon, award-winning and New York Times bestselling author Margi Preus expertly weaves original fiction with myth and folktale to tell the story of Astri, a young Norwegian girl desperate to join her father in America.

After being separated from her sister and sold to a cruel goat farmer, Astri makes a daring escape. She quickly retrieves her little sister, and, armed with a troll treasure, a book of spells and curses, and a possibly magic hairbrush, they set off for America. With a mysterious companion in tow and the malevolent "goatman" in pursuit, the girls head over the Norwegian mountains, through field and forest, and in and out of folktales and dreams as they steadily make their way east of the sun and west of the moon
West of the Moon
by Margi Preus
Overall Review:
The voice and writing in West of the Moon by Margi Preus is both gorgeous and irresistible. The story of fourteen year old Astri is entwined with that of Scandinavian folktales as Astri compares and contrasts her lot with those of folktale characters. Initially a character of verve, resourcefulness, and resilience, Astri (sadly) finds herself stooping to thievery, lying, and dishonesty as the book progresses. As charming as the story is, it does become a bit muddled in the middle. It seems as if Astri herself is losing touch with what is the reality of her life and the fantasy of the stories she tells. Add a dream (?) and things start to get really murky. Thankfully though, the author rights the ship in the end before it sinks under its own weight. The notes at the end with insight into the genesis of the story and historical facts are interesting and budding authors may especially enjoy seeing how a small start can lead to a novel. This novel falls somewhere between historical fiction and a fairy tale, but fans of both genres would probably enjoy. If you are a current fan of the movie Frozen and are enamored of all things Scandinavian right now, then you would probably enjoy this book, too.
Content Analysis:
Profanity/Language: 1 mild obscenity.
Violence/Gore: Character kicks another in shins; character kicks another's backside; adult pulls a teens braid, and slaps them; verbal threats of beating; knife placed at a character's neck to ward off unwanted advances; animal purposefully set out in weather to die; report of death by illness and in childbirth; teen character is beat by adult, slapped repeatedly in face resulting in bruising and swelling and taste of blood; stories about trolls having heads cut-off; characters struggle and a brawl breaks out; character chops off digits of another with a knife, mention of blood; character dies from complications from a wound.
Sex/Nudity: Character is asked if they are looking for companionship; female character is thrown face down on bed and male character is on top of her in a threatening manner until repelled.
Mature Subject Matter:
Immigration, childbirth, death of a parent, child abandonment, child labor/abuse, superstitions.
Alcohol / Drug Use:
Adult chews tobacco.
Reviewed By Cindy