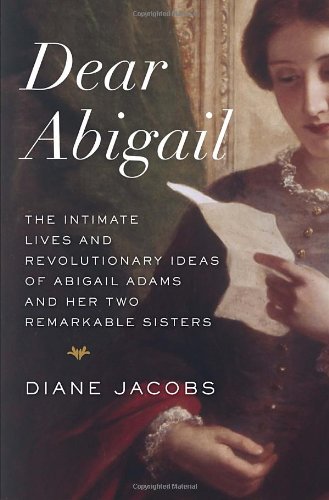 Publisher's Note:
For readers of the historical works of Robert K. Massie, David McCulough, and Alison Weir comes the first biography on the life of Abigail Adams and her sisters.

"Never sisters loved each other better than we."—Abigail Adams in a letter to her sister Mary, June 1776

Much has been written about the enduring marriage of President John Adams and his wife, Abigail. But few know of the equally strong bond Abigail shared with her sisters, Mary Cranch and Elizabeth Shaw Peabody, accomplished women in their own right. Now acclaimed biographer Diane Jacobs reveals their moving story, which unfolds against the stunning backdrop of America in its transformative colonial years.

Abigail, Mary, and Elizabeth Smith grew up in Weymouth, Massachusetts, the close-knit daughters of a minister and his wife. When the sisters moved away from one another, they relied on near-constant letters—from what John Adams called their "elegant pen"—to buoy them through pregnancies, illnesses, grief, political upheaval, and, for Abigail, life in the White House. Infusing her writing with rich historical perspective and detail, Jacobs offers fascinating insight into these progressive women's lives: oldest sister Mary, who became de facto mayor of her small village; youngest sister Betsy, an aspiring writer who, along with her husband, founded the second coeducational school in the United States; and middle child Abigail, who years before becoming First Lady ran the family farm while her husband served in the Continental Congress, first in Philadelphia, and was then sent to France and England, where she joined him at last.

This engaging narrative traces the sisters' lives from their childhood sibling rivalries to their eyewitness roles during the American Revolution and their adulthood as outspoken wives and mothers. They were women ahead of their time who believed in intellectual and educational equality between the sexes. Drawing from newly discovered correspondence, never-before-published diaries, and archival research, Dear Abigail is a fascinating front-row seat to history—and to the lives of three exceptional women who were influential during a time when our nation's democracy was just taking hold.
This book was sent to Compass Book Ratings for review by Ballantine Books
Dear Abigail: The Intimate Lives and Revolutionary Ideas of Abigail Adams and Her Two Remarkable Sisters
by Diane Jacobs
Overall Review:
Dear Abigail: The Intimate Lives and Revolutionary Ideas of Abigail Adams and Her Two Remarkable Sisters is a fascinating biography written from a decade's worth of research. Author Diane Jacobs chronicles former First Lady Abigail Adams' life, as well as the activities of her two beloved sisters, Mary Cranch and Elizabeth Shaw Peabody. The book includes scores of captivating letters and journal entries from the trio.
Abigail had a front seat to many historical events and I loved reading about her experiences during the Revolutionary War, in Europe, and as the First Lady of the United States. The lives of her two sisters are interesting in their own right and provide detailed accounts of life during America's Revolutionary Period. The women frequently shared their unique insights and views about politics, religion, and women's rights. I recommend reading Dear Abigail because it is a well-written, comprehensive, and easy to follow biography.
Content Analysis:
Profanity/Language: 1 religious exclamation, 1 derogatory name.
Violence/Gore: Second hand reports of violence involving the battles of the Revolutionary War, mobs and fights with Native Americans; a few non-detailed scenes of violent death involving the Boston Massacre, French Revolution and war battles.
Sex/Nudity: Several sexual references and implied incidents of sexual activity.
Mature Subject Matter:
War, death of family members, racism, politics, religion, slavery.
Alcohol / Drug Use:
Several characters are alcoholics and perish from their excessive drinking; mention of characters smoking and drinking; mention of a man "smelling of rum".
Reviewed By Rachel