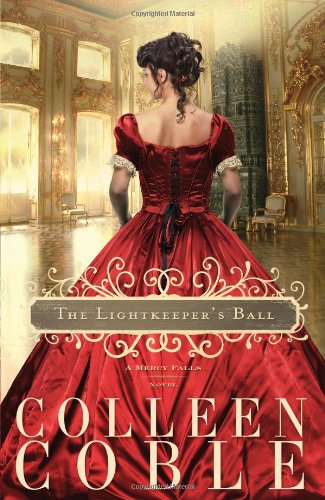 Publisher's Note:
At the elegant Mercy Falls masquerade ball, Olivia's hidden identity will be revealed.

It is the dawn of a new century and Olivia Stewart is heiress to an empire. Her family numbers among the Four Hundred-those considered the wealthiest and most distinquished in America. Unfortunately their wealth has nearly disappeared, and now their security rests upon the Stewart daughters' marrying well.

Olivia's sister, Eleanor, was engaged to Harrison Bennett, one of the nation's wealthiest men, but has since died. Now the pressure is on Olivia to take her place, despite her suspicions about Eleanor's fiance. Using her family's long-forgotten English title, Olivia travels to Mercy Falls, California, as Lady Devonworth, hoping to learn more before committing to marriage. There she finds that Eleanor's death was no accident. And Harrison is not the man she thought he would be.

When Mercy Falls holds a charity masquerade ball to raise funds for the new lighthouse, secrets-and truths long hidden-will be revealed. But can Harrison really love Olivia when he finds her true identity? Can she live with the repercussions of failing her family, or will she finally realize that nothing-not money, family, or romance-will ever compare to God's unconditional love?
This book was sent to Compass Book Ratings for review by Thomas Nelson
The Lightkeeper's Ball
by Coleen Coble
Overall Review:
Though heralded as a romance, The Lightkeeper's Ball has something for everyone. Author Colleen Coble masterfully weaves actual historical tidbits into the novel (the likes of Haley's comet, the first airplanes and women's rights), which enrich the plot and make for an engaging read. The hair-raising adventures and enchanting romance between the main characters, Olivia and Harrison, will delight and captivate. My only wish is that the narrative was more even-paced; the events in the book's first half struck with lightning speed while the latter portion slowed considerably.

While love blossoms between characters, circumstances around town grow downright mysterious. Murder, mayhem and secrets envelope the town's occupants - and that's only within the first few chapters! With multiple plot twists, readers will have difficulty trying to discover "whodunit". In fact, this is one mystery that will keep readers in suspense until the very end. For an outstanding blend of intrigue and passion, pick up The Lightkeeper's Ball.
Content Analysis:
The Lightkeeper's Ball is a Christian romance, so it is fairly conservative compared to most romance novels. There is no profanity.

Violence events include the mention of a death by drowning. A character is pushed off a cliff in a murder attempt. Two characters are tied up and left in a burning building; they are subsequently rescued but have injuries that are not graphically described. A character physically struggles against unknown attackers.

Sexual content includes one incident of passionate kissing. A character mentions finding an unmarried couple in bed together. There is frequent talk of a character's infidelity, which results in an illegitimate child. An engaged character has innocent wonderings about the "bedroom side of marriage". This topic is approached from a religious standpoint.
Mature Subject Matter:
Mature themes include love, revenge, murder, and betrayal.
Alcohol / Drug Use:
***
Reviewed By Rachel