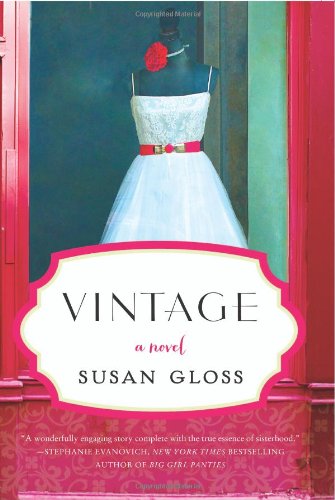 Publisher's Note:
Vintage is Susan Gloss's sparkling debut novel in the vein of The Friday Night Knitting Club, centered around a Midwestern vintage clothing shop and and a group of women who eventually transform the store and each others' lives.

At Hourglass Vintage in Madison, Wisconsin, every item in the boutique has a story to tell . . . and so do the women who are drawn there.

Violet Turner has always dreamed of owning a shop like Hourglass Vintage. When she is faced with the possibility of losing it, she realizes that, as much as she wants to, she cannot save it alone.

Eighteen-year-old April Morgan is nearly five months along in an unplanned pregnancy when her hasty engagement is broken. When she returns the perfect 1950s wedding dress, she discovers unexpected possibilities and friends who won't let her give up on her dreams.

Betrayed by her husband, Amithi Singh begins selling off her old clothes, remnants of her past life. After decades of housekeeping and parenting a daughter who rejects her traditional ways, she fears she has nothing more ahead for her.

An engaging story that beautifully captures the essence of women's friendship and love, Vintage is a charming tale of possibility, of finding renewal and hope when we least expect it.
Vintage: A Novel
by Susan Gloss
Overall Review:
I am curious--what makes a book a "good" book? Why did I suddenly start seeing the cover of this book everywhere I turned? My friends were adding it to their shelves on Goodreads, book reviews were being written, bookish websites were promoting it...and it made me wonder why. Why did everyone suddenly want to read this book? Or any book for that matter...who starts the booktalk and how does it catch on? While I don't have all the answers to these questions, I do know that Vintage is a very worthwhile read. It takes a whole bunch of characters and their stories, and weaves them together to form a story that is heartfelt and sweet.
It took me a few chapters to really get into this book, but once I did, there was no going back. The characters were likeable and familiar. They felt kind of like family or friends, and I began to care about them and their situations. This doesn't always happen with me and the books I read, but Susan Gloss did a wonderful job of writing a novel that will relate to generations of future readers. If you want a book that mixes a vintage clothing shop, family life, relationships, and a little bit of everything else, then Vintage is a good pick
Content Analysis:
Profanity/Language: 6 religious exclamations; 4 mild obscenities; 1 derogatory name; 1 scatological word; 4 F-Word derivatives.
Violence/Gore: A woman considers having an abortion; a character is mentioned to have committed suicide; a miscarriage is mentioned.
Sex/Nudity: Adults are mentioned to kiss multiple times; an affair between a man and a woman is referred to; losing virginity is mentioned briefly with no detail; strip clubs are mentioned briefly with no detail; a one night stand is mentioned with no explicit detail or description; making love is referred to multiple times with no innuendo; sex is mentioned with a very brief description with no explicit detail; drag queens are briefly described; an unmarried couple lives together; one mature discussion regarding sex is had.
Mature Subject Matter:
Divorce, death of a parent.
Alcohol / Drug Use:
Adults drink; adults smoke.
Reviewed By Lydia