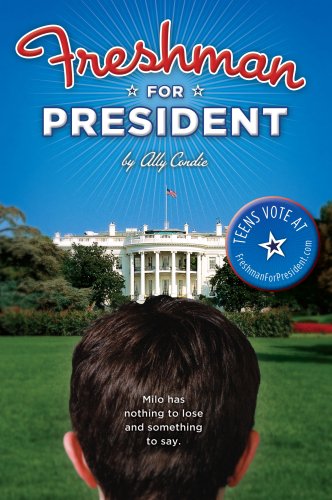 Publisher's Note:
Fifteen-year-old Milo J. Wright and his best friend, Eden, are crazy to even consider participating in the election for President of the United States of America, aren't they? Never mind that Milo is twenty years too young. Never mind the fact that he'll have to balance the election with school, his lawn-mowing job, soccer practice, and trying to understand girls. There are time in life when you just have to go for something, no matter how impossible. Readers will discover that everyone, no matter what age, has something valuable to say.
Freshman for President
by Ally Condie
Overall Review:
Milo is a freshman in high school who isn't super noticeable--he's just part of the crowd. In an attempt to stand out, he's decided to run for class president, until the principal announces that there will no longer be class officers. In his determination to make a name for himself, Milo decides to run for President of the United States. Knowing full well he's unable to actually serve as president, he feels he can accomplish great things just by running.
At first glance this may sound like a silly novel with not much substance, but as usual, Ally Condie delivers a fantastic story. The characters provide a perfect balance to keep your interest with their personalities, humor, and the dynamics among them. Condie also touches on a few deeper subjects to induce a bit of thought and reflection. Freshman for President is a great, quick read that most young adults will both relate to and enjoy.
Content Analysis:
Profanity/Language: One mild obscenity.
Violence/Gore: Several (19) brief incidents including joking about characters hurting another; imagining getting trampled; thinking someone may have poisoned characters food (partially kidding); second hand reports of young child's parent dying; abortion mentioned; story of character who dies; second hand reports of elderly people dying; lit firecrackers thrown at character's feet and in back of truck that is being driven; character slugs another; angry character throws object at another (character is unharmed).
Sex/Nudity: Few (10) brief incidents including arm pat; holding hands; kissing and wanting to kiss; joking about making a topless calendar for male character; abortion mentioned; pharmacist knows what teenagers take birth control; rape insinuated.
Mature Subject Matter:
Insinuation of rape, abortion mentioned.
Alcohol / Drug Use:
Pharmacist knows who tries to get more medication than they're supposed to.
Reviewed By Jenny