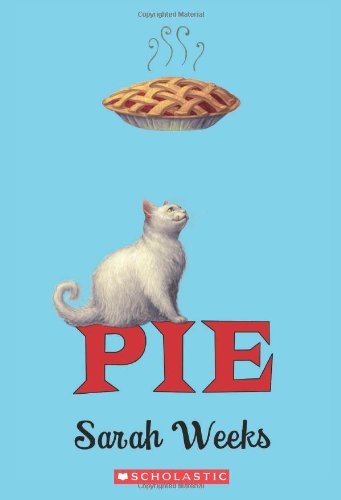 Publisher's Note:
From the award-winning author of SO B. IT, a story about family, friendship, and...pie!

When Alice's Aunt Polly, the Pie Queen of Ipswitch, passes away, she takes with her the secret to her world-famous pie-crust recipe. Or does she? In her will, Polly leaves the recipe to her extraordinarily fat, remarkably disagreeable cat, Lardo . . . and then leaves Lardo in the care of Alice.

Suddenly, the whole town is wondering how you leave a recipe to a cat. Everyone wants to be the next big pie-contest winner, and it's making them pie-crazy. It's up to Alice and her friend Charlie to put the pieces together and discover the not-so-secret recipe for happiness: Friendship. Family. And the pleasure of donig something for the right reason.

With Pie, acclaimed author Sarah Weeks has baked up a sweet and satisfying delight, as inviting as warm pie on a cold day. You'll enjoy every last bite.
Pie
by Sarah Weeks
Overall Review:
Who doesn't love a slice of good pie? Cherry, pecan, pumpkin, apple...it makes my mouth water just thinking about all the yummy flavors and varieties! I have always been the pie maker in my family, so I could relate well to Alice, the main character in this scrumptious book. Alice is a smart girl who is close to her much-loved, pie-making Aunt Polly. Alice and Polly were close, in fact, it seemed to me that Alice found more comfort and solace in her aunt's pie shop than in her own home. Her parents reminded me of the parents in Matilda...unsuited to take care of a child.
Despite the fact that Alice doesn't have much support on the home front, she is blooming into a talented young woman. I thought she set a very good role model for any young girl, and maybe even a boy who would be perusing the pages of this slim novel. Alice doesn't easily give up, even in the face of the hardest challenge; even when her parents tell her she can't do what she has set out to do. When a mystery surrounding a death and her aunt's famous pie crust recipe arises, Alice takes matters into her own hands, and quite well, I might add. Instead of curling up and crying in the midst of her grief at losing a beloved relative, she stands up straight, brushes herself off, and stubbornly persists in searching for answers, even when the horizon looks bleak. A reader of any age can look at this example and learn something from it.
Content Analysis:
Profanity/Language: None
Violence/Gore: A character is bullied by other kids her age; a mention of a character dying a natural death; items are stolen from a locked house.
Sex/Nudity: A girl imagines kissing a boy.
Mature Subject Matter:
Death of a relative, bullying, theft.
Alcohol / Drug Use:
None
Reviewed By Lydia