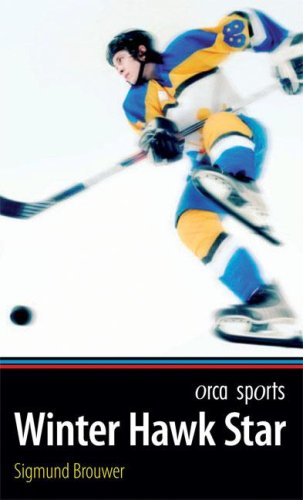 Publisher's Note:
Tyler is a good, solid hockey player, but not a great one. That honor belongs to the obnoxious Riley, a sixteen-year-old spoiled superstar who makes Tyler's life miserable. When Tyler and Riley are sent to volunteer at a local youth program, Tyler finds the passion and commitment he needs to step up his game on ice--and off.
Winter Hawk Star
by Sigmund Brouwer
Overall Review:
On the Portland Winter Hawks hockey team, Tyler, eighteen, and Riley, sixteen, have opposite problems: Tyler just wants to stay on the team and not be noticed; Riley's an amazing player but a showboater. Coach Estleman sends them both to volunteer at an inner-city program for at-risk kids. But there's more going on at Youth Works than pandemonium.
The mystery at the youth program may strain the credulity of parents, but teens, especially those interested in sports, will likely enjoy the hockey action, the mysterious events at the youth program and the hint of romance.
The book begins in the middle of an exciting hockey game; the next two chapters are quieter, but in Chapter Four, a boy is kidnapped, there's a car chase, and from then on, the story skates along at an exciting pace, hockey action alternating with action surrounding the mystery at the youth center
Reading Level: 4.5, range 2.8-6.6.
Also good for reluctant readers.
Of interest to boys
This review has been acquired and adapted from CleanTeenReads.com.
Content Analysis:
This review was acquired from CleanTeenReads.com on May 15, 2014 and was not completed using Compass Book Ratings' standardized checklist. Nevertheless, it contains useful content information which is included here. The overall number ratings have been approximated based on this information.
Other hockey player threatens that he'll get hero and kill him, not serious. Boy is kidnapped; car chase where hero drives on sidewalk, narrowly misses hydrant, other car runs into truck; two bad guys pull out switchblades, hero told he'll be "sliced, bloody meat"; hero hits bad guy with hockey stick, hard enough to break the stick and make bad guy scream; other bad guy threatens with knife, hero defends with broken stick; truck driver threatens bad guys with tire iron. Hero hit in the stomach with hockey puck; hero makes slap shot that accidentally hits coach in crotch, graphic description of coach in pain, falling down; hero hits slap shot into window of building; boy keeps hitting another over the head with Nerf bat even after being told to stop several times; boy has hands around another boy's neck; sister threatened that she must stop talking or her brother will be killed; boy has seizure; heroine tells hero to stop volunteering or he'll be killed; hero cut by flying puck, needs stitches; hero and other hockey player hijacked, bad guy threatens to shot friend, other bad guy threatens to slit hero's throat; both put in trunk of car with heroine, bad guys threaten to shot them through the back seat if they yell for help; state troopers pull guns on bad guys.

Heroine hugs hero for saving her brother; other hockey player asks hero if he and heroine "smooched," hero implies they did.

Mature Subject Matter:
None
Alcohol / Drug Use:
A parent smokes, disapproved; drug company illegally pre-testing drugs on kids at youth center in the Kool-aid they drink.
Reviewed By CleanTeenReads