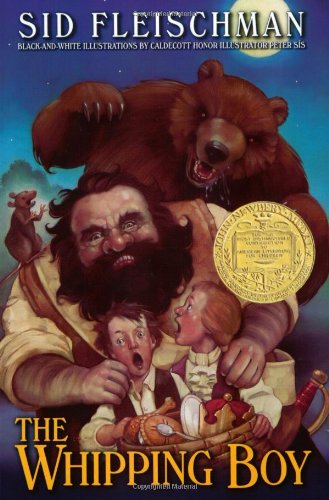 Publisher's Note:
Award-winning author Sid Fleischman blends the broadly comic with the deeply compassionate in this memorable novel, winner of the Newbery Medal.
A Prince and a Pauper . . . Prince Brat and his whipping boy inadvertently trade places after becoming involved with dangerous outlaws. The two boys have nothing in common and even less reason to like each other. But when they find themselves taken hostage after running away, they are left with no choice but to trust each other.
This briskly told tale of high adventure, taut with suspense and rich with colorful characters, was named an ALA Notable Book. Sid Fleischman's celebrated novel features brief, action-packed chapters and includes black-and-white illustrations by Caldecott Honor artist Peter Sís.
Supports the Common Core State Standards
The Whipping Boy
by Sid Fleischman
Overall Review:
This Newbery Award-winning book tells a light and lively role reversal story. When Prince Brat runs away and takes his whipping boy, Jemmy, with him, they end up switching places with each other.
During their wild adventures, the two meet a performing bear, outwit Hold-Your-Nose-Billy and his bumbling partner in crime, and the prince and Jemmy even become friends.
The story is action-packed from the first page as the prince plays a practical joke on the lords and ladies at a banquet and Jemmy gets whipped. The story continues throughout at a lively pace, each brief chapter presenting more action and humor. Reading Level: 5.1, range 3.2-6.8.
Good for reluctant readers.
Of interest to boys and girls
Awards: Newbery Award, 1987

This review has been acquired and adapted from CleanTeenReads.com.
Content Analysis:
This review was acquired from CleanTeenReads.com on May 15, 2014 and was not completed using Compass Book Ratings' standardized checklist. Nevertheless, it contains useful content information which is included here. The overall number ratings have been approximated based on this information.
Hero beaten when prince misbehaves, doesn't learn his lessons; hero fears he'll be hung for running away with prince, mentioned twice; villain threatens to beat hero, kill him if ransom not paid; hero knows villains will beat him up when they find out they've been tricked; villains beat prince, thinking he's whipping boy; villains chased by trained bear; hero worries friend could be hanged for shaking hands with prince; prince wants to have woman's tongue "ripped off for lying"—voicing her poor opinion of prince; villains fear king will "skin [them] alive" for whipping prince, chase prince and hero, wanting to make sure king doesn't find out; villains bitten by rats from sewer, rats swarm over them as they run away; king tells hero he ought to be whipped.
Mature Subject Matter:
Social class disparity
Alcohol / Drug Use:
Mention of brewery
Reviewed By CleanTeenReads